Edamame Mushroom Miso Noodle Soup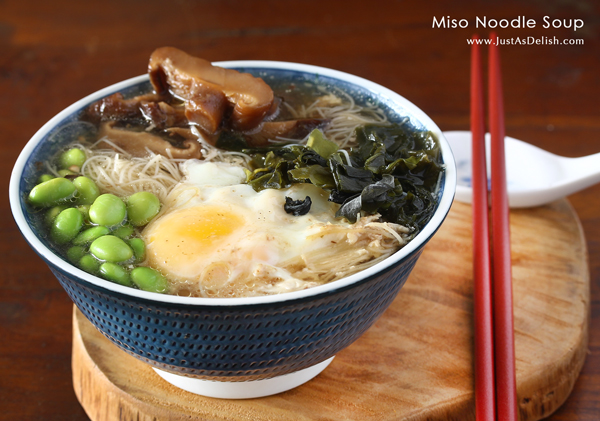 Place 4 dried shiitake mushrooms, a handful of frozen edamame pods, rice vermicelli (enough for 1 person) in separate bowls. Pour hot water over the ingredients to soak for 5 mins. Cut shiitake mushrooms with scissors, remove edamame from the pods, and drain rice vermicelli.
In a medium pot on medium heat, saute minced garlic with ½ tablespoon vegetable oil until fragrant. Add mushroom and saute for 1 min. Add Chinese Chicken Stock (or water) and bring to boil.
Add miso paste and a ladleful of the hot broth in a medium bowl. Whisk until miso is completely dissolved.
Add rice vermicelli and edamame into the boiling broth and crack in an egg (slightly submerged in the broth). Switch of fire after 2 minutes (longer if you prefer a well cooked egg).
Add miso mixture and wakame into the pot and stir well. Serve immediately.
Recipe by at https://justasdelish.com/miso-noodle-soup/