Sigeumchi namul (Korean Spinach side dish)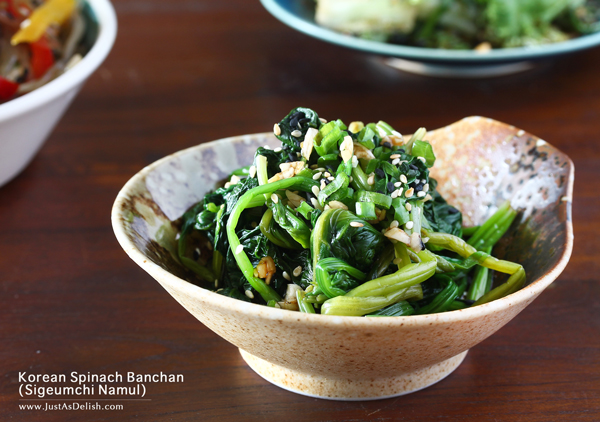 200g Spinach – to use leaves and stem, remove the roots and wash 2-3 times
2 cloves Garlic – minced finely
1 Green Onion – sliced thinly
1.5 tablespoon of Soy Sauce (or Tamari for gluten free option)
½ tablespoon Sesame Oil
½ tablespoon Sesame Seeds - toasted
1 teaspoon Sea Salt
Mix minced garlic, green onion, soy sauce and sesame oil in a large bowl.
In a medium pot of boiling water, add 1 teaspoon of salt and blanch a bunch of spinach for 30 seconds. Drain the cooked spinach and rinse it in cold water 3 times, and squeeze it gently to get the water out.
Cut the spinach a few times and place the spinach into the sauce bowl and mix by hand.
Transfer the spinach onto a serving plate and sprinkle toasted sesame seeds.
Recipe by at https://justasdelish.com/blog/korean-spinach-banchan/