Malaysian Sup Daging (Beef Soup)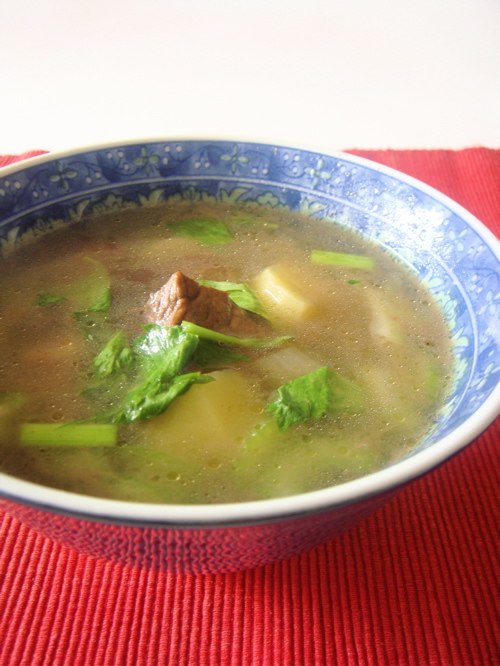 700g Beef Bones or Beef Flank
4 Potatoes - cut into 4
10 cups Water
1 packet of Sup Tulang Spices *
2 stalk of celery with leaves - cut thinly
2 tablespoon Vegetable Oil
Salt to Taste
Fried Onion
10 biji Small Red Onions
5 clove Garlic
1cm Ginger
4 Cardamon
1 Cinnamon Stick
3 Aniseed
2 Cloves
1 teaspoon Coriander Seed - pounded
1 teaspoon Cumin - pounded
½ teaspoon Aniseed - pounded
1½ teaspoon Black Pepper - pounded
3 petals of Star Anise
Some broken pieces of Cinnamon Stick
a pinch of Mustard Seeds
In a medium pot, heat oil on low fire and saute the grinded ingredients and the loose spices until fragrant.
Add in Beef / Ribs and saute until the meat is half cook.
Add in 10 cups of water and Spice Mix in muslin, boil until the meat is tender, about 1 hour.
Add potatoes and boil for 30 minutes or until soft.
Remove from heat and add in celery and spring onion. Dish out and garnish with fried onions.
Recipe by at https://justasdelish.com/sup-daging/