Red Bean Dessert Soup (Tong Shui)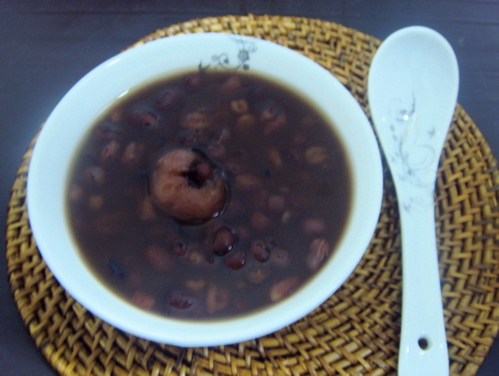 200 gm Red Beans (Red Azuki Beans)
1 tablespoon Barley
1 tablespoon Black Glutinous Rice
a handful of Pak Hup (Lily Bulb)
4-5 Lotus Seeds - dark green core removed
1 liter Water, can reduce or add more
Dried Mandarin Orange peel (optional)
Rock Sugar / Sugar - or amount to your taste
Bring water to boil and add red beans. Reduce to simmer.
Add mandarin orange peel and rock sugar after 30 minutes and continue to simmer for at least another 30 minutes or until the beans and rice is soft.
Put all ingredients (except rock sugar) in a slow-cooker and cook it for 3 hours or overnight on automatic.
Add rock sugar 10 minutes before serving hot.
- This dessert can be served hot or cold - You can adjust the amount of red beans and black glutinous rice according to your preference. - The amount of water used depends on how high your stove power and how long you cook. Top up with more boiling water if necessary. (If you use slow cooker, you'd need less water.) - If you would like to enjoy the texture of whole red bean, you just cook to the point what I had. If you like the soup thicker, cook longer time
Recipe by at https://justasdelish.com/blog/red-bean-dessert-soup/