Zucchini Noodles Aglio et Olio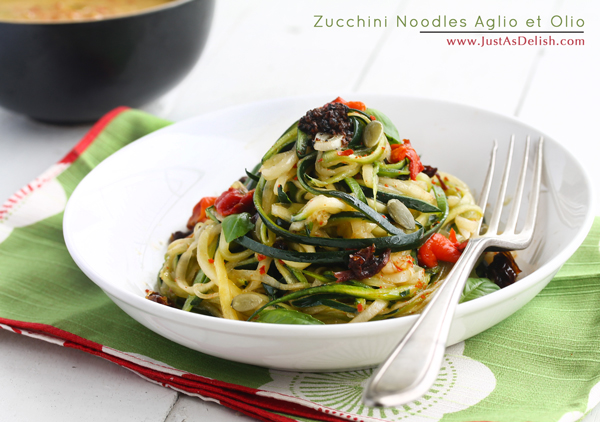 Recipe type:
Main / Pasta
Slice zucchini with julienne peeler, discarding the soft core. Toss the julienned zucchini generously with salt and let it sit for 20 minutes to remove excess water. Rinse with running water, drain well, and pat dry with paper towels. (This step ensures tender, rather than watery, noodles.)
Heat a large pan over medium-high heat and add the olive oil, garlic, and crushed red pepper, stirring with a spatula until the garlic is fragrant, about 20 seconds.
Add the prepared zucchini noodles and stir them for about 1 minute, make sure they are well coated. Turn off the heat and mix the parsley, salt, and black pepper into the noodles. (I tossed in some leftover sun dried tomatoes, roasted peppers, basil and pumpkin seed).
Recipe by at https://justasdelish.com/zucchini-noodles-aglio-et-olio/