Baked Salmon Packets with Vegetables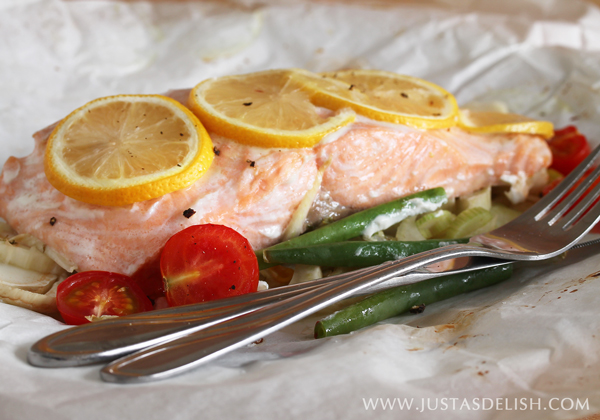 2 pieces 200g skinless Salmon Fillets
1 Fennel bulb - thinly sliced paper thin (a mandoline works best)
a couple of French Beans
a couple of Cherry Tomatoes - halved
Zest of half a lemon
8 very thin Lemon Slices
1 tablespoon Lemon Juice
Sea salt
Freshly ground black pepper
2 long rectangular Baking Paper
Preheat oven to 225°C (450°F).
Fold a baking paper in half to create a crease, and open it up again. Place several slices of fennel bulb above the crease of the paper and sprinkle with salt. Place one fillet of salmon on top of the fennel bulb slices, beans and tomatoes on the side. Squeeze lemon juice over the ingredients and sprinkle generously with lemon zest, salt and pepper. Lay 3-4 thin slices of lemon over salmon.
Fold the parchment over the salmon and secure close. Seal the parchment paper well by repeatedly folding little sections over each other around the edges, taking care to make sure it is well sealed.
Place on a baking tray and bake for 10 minutes.
Serve packets on individual plates immediately. Open up the folded packet or cut open the middle to enjoy the meal.
Recipe by at https://justasdelish.com/baked-salmon-packets/