Three Cup Chicken (San Bei Ji 三杯鸡)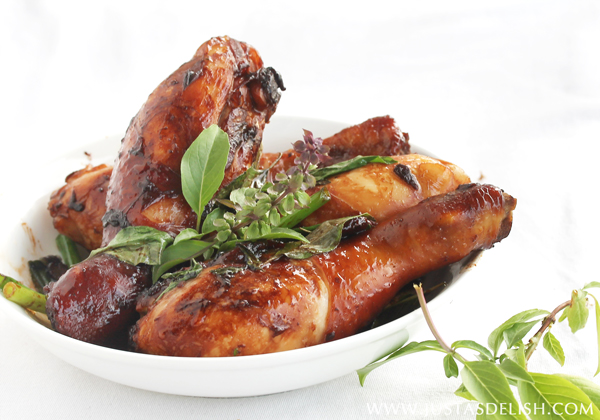 500g (1 lb) Chicken Drumsticks - cut into chunks (I use whole drumsticks for photography purposes. You can also use chicken drumettes or wings)
2 tablespoon Sesame Oil
1-2 inch Ginger - thinly sliced
2 cloves garlic - finely chopped
60ml (¼ cup) Shaoxing Wine (cooking rice wine)
2 tablespoon Water
2 stalks of spring onions - cut into 2 inch pieces
Small bunch of Thai basil
Place sesame oil, ginger, garlic and half of spring onions into a huge wok (or pan) on medium heat, for 1 minute to let the aromatic ginger and garlic infuse the oil.
Then add the chicken to the wok all in one even layer, so every piece gets seared equally on both sides. Don't over-crowd the wok.
Once both sides are browned, stir in cooking wine, soy sauce and water. Cover the wok and simmer for 15 minutes to get the chicken cooked through.
After 15 minutes, remove the cover and turn up the heat to rapidly reduce the sauce. If the sauce has dried up, add a splash of water. Stir the chicken until they turn a rich, dark colour.
Toss in Thai basil and remaining spring onion and stir 1-2 times to quickly wilt the herbs.
Plate and serve immediately. I toss in raw Thai basil because the flavours of raw herb is more intense.
Recipe adapted from
The Woks of Life
If you want to use whole drumstick, cook the chicken for an extra 5 more minutes before adding Thai basil
Recipe by at https://justasdelish.com/three-cup-chicken-san-bei-ji/