Pan-fried Honey Lemon Chicken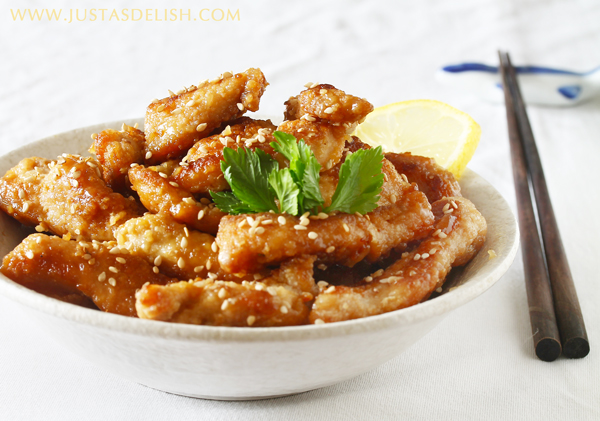 300g (10oz) skinless Chicken Breast/Thigh Fillet
3-4 tablespoon Flour (I use rice flour for gluten free version)
2-3 tablespoon Vegetable Oil
½ teaspoon White Sesame
½ tablespoon Soy Sauce (or Tamari for gluten free option)
½ tablespoon Shaoxing wine (optional)
2 tablespoon Lemon Juice
1 tablespoon Honey
3 tablespoon Water
1 teaspoon Corn Starch / Rice Flour / Wheat Flour
Cut chicken into 1 inch strips, place into a mixing bowl and mix well with soy sauce and shao hsing wine. Add in flour and toss the chicken, lightly coating it. Add in 1 more tablespoon of flour if the chicken pieces are not evenly coated.
Heat up a pan with oil on medium heat. When the pan is heat up, place chicken strips on single layer onto the pan and don't overcrowd it. If pan is not large enough, cook it in 2 batches. Cook for 5 mins and turn over with chopstick or thong to cook for another 5 mins
Meanwhile toast sesame in another pan over low heat for 1-2 minute, stir or shake the pan 3-4 times so that it doesn't burn. Prepare sauce by mixing all ingredients in a small bowl, until it's well mixed.
Cut a piece of chicken to check that it's fully cooked. Pour the sauce into the same pan, and remove from(or switch off) heat when the sauce starts to boil. Stir well to coat the chicken strips, plate and sprinkle with white sesame. Serve immediately with rice or salad.
Recipe by at https://justasdelish.com/honey-lemon-chicken/