Thai-Style Kelp Noodle Salad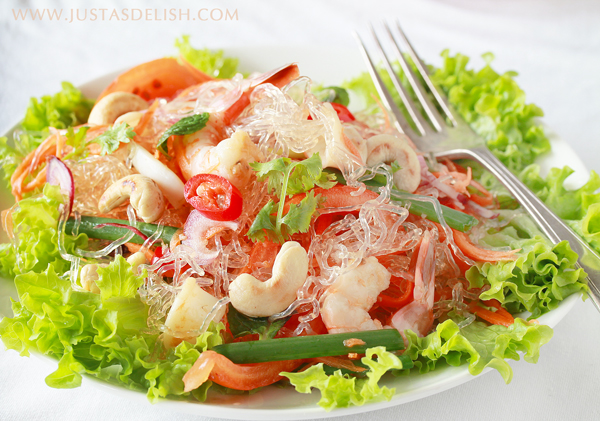 5-6 sprigs Coriander
200g Kelp Noodles - wash and drained dry.
6 medium Prawns - peeled and deveined
4 Baby Squid - cleaned and cut into thick rings
½ small Red Onion - sliced
½ cup Cashew - roasted
1 medium Carrot - grated with vegetable peeler
1 Tomato - seeded and cut into 10 segments
3 Spring Onion - cut into 2 inches
1 sprig of Mint Leaves
1 Red Chili (optional to garnish) - sliced
1 tablespoon Fish sauce
2 tablespoon Lime juice (or rice vinegar)
1 teaspoon Honey
1 Bird's Eye Chili (add more if you can take the heat) - sliced
Wash and drain dry the kelp noodles, then use a pair of scissors to cut 2-3 times to make the noodles shorter.
Toast cashews on the pan over medium heat for 5-7 minutes, stirring constantly, until the cashews turn light brown and cooked. Set aside and let them cool down.
On another stove, bring a small pot of water to boil and add in prawns and squid to cook for 1 minute. Strain them dry and add to big mixing bowl.
In a small bowl, mix the dressing ingredients. Add sliced onion to the dressing to tone down the heat in onion.
Cut the vegetables and herbs, and add to the same mixing bowl that is holding the prawns and squid. Once all the vegetables are ready, add the dressing and toss.
Before serving, top with cashews and sliced red chili.
* If you can't find kelp noodles and want to try this recipe, use glass noodle. Soak the noodle in hot water for 5 minutes until it turn clear. Strain dry and add to the salad ingredients.
* You can replace shrimp and squid with stir fry minced chicken / pork / beef
* For vegetarian version, add pan-seared tofu. Replace fish sauce with soy sauce/tamari
Recipe by at https://justasdelish.com/thai-style-kelp-noodle-salad/