Multigrain Miso Porridge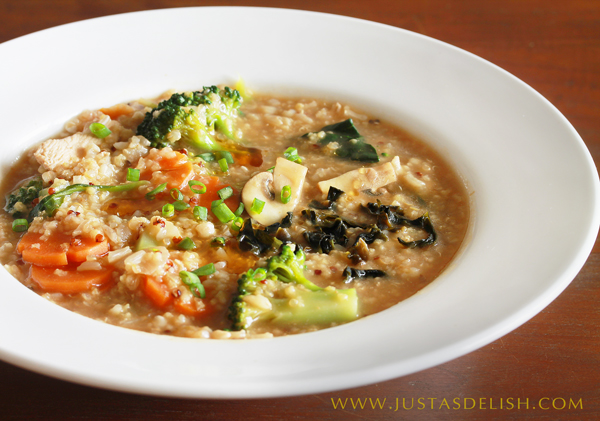 ½ cup Multigrain mix (I use brown rice, millet, quinoa, sorghum, amaranth and buckwheat)
1 liter (4 cups) Water or more
2x2cm Kombu (Kelp)
1 small Onion - sliced
100g Chicken Fillet - thinly sliced
2 cups of mix Vegetables (Broccoli, Carrot, French beans, baby corn) - cut into bite size
a couple of fresh Mushrooms (if using dried mushrooms, soak them in hot water for 30 minutes) - sliced
1 tablespoon Cooking Oil
1-2 tablespoon Miso Paste (I use this brand of GMO free Miso Paste)
sprinkle of Wakame
Spring onion for garnish
Wash and soak multigrain overnight or at least 3 hours. Soaked or sprouted grains take less time to cook and are easier to digest.
Place a medium pot with cooking oil on medium heat. Add in onion to saute for 1-2 minutes until soft. Add in chicken to brown on both sides.
Add in multigrain, kelp and water. Cover to bring it to boil, then lower the heat to simmer for 15 minutes. Check that the grains texture are cooked to your liking. If you prefer thick mushier grain texture like congee, cooked it a bit longer to thicken the mixture.
Add in the vegetables and mushrooms and simmer for 5 minutes, the texture of the vegetables should be just cooked, with a nice bite. If you prefer softer texture, simmer a bit longer.
Switch off fire or remove pot from heat. Mix miso paste with filtered water in a bowl and add into the porridge. Adjust seasoning to your liking.
Serve immediately with wakame and spring onions.
Recipe by at https://justasdelish.com/multigrain-miso-porridge/