Teriyaki Salmon Bowl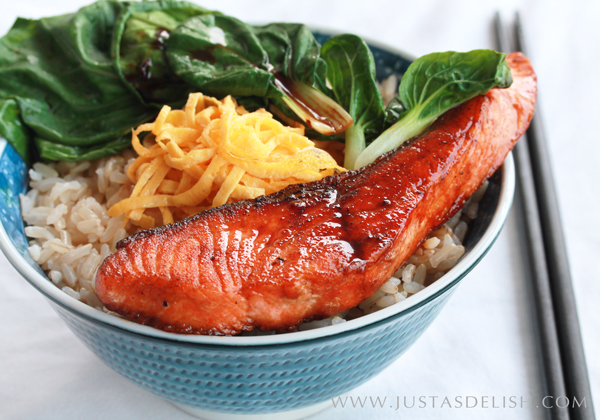 2 Salmon Fillets (100g each) - sliced side ways for Japanese style salmon fillets
1 medium Egg
2 handful of Baby Bok Choy or any favourite leafy greens
1 cup soaked Brown Rice
2cmx2cm Kombu (Kelp) - optional
2 cups Water
1 tablespoon Honey
1 tablespoon Soy Sauce (or tamari for gluten free option)
1 tablespoon Mirin
1 tablespoon Sake (optional)
Soak brown rice overnight or at least 4 hours. If using a pot to cook, add brown rice, kombu and water and bring to boil. Then lower heat to simmer for about 10 minutes or until water is fully absorbed. Keep covered for another 10 minutes to steam the rice.
Heat up a non-stick 18cm pan on low heat. If using a normal pan, lightly coat the pan with oil. Whisk egg with a pinch of salt in a small bowl. Pour egg onto the pan and swirl the mixture around to get a thin layer of omelette. In about 1 minute, the top will be dried and cooked through.
Remove and slide off the omelette onto a chopping board. Roll the omelette and slice thinly from the end.
Using the same pan, pan fry the salmon fillets for about 2 minutes on each side on medium heat. Remove the fillets to set aside.
Mix teriyaki sauce ingredients in a small bowl and pour the sauce into the same pan. When it start to simmer, switch off the heat and add back the salmon fillets to coat them in the sauce.
Just before serving, place baby bok choy into the pot of rice to let the residue heat gently steam the veggie for 2 minutes. I have the veggie directly on top of the rice. This will produce slightly crunchy bok choy, which I prefer. Steam longer if you prefer wilted bok choy.
Plate a bowl of rice, and top with salmon, bok choy and omelette, with drizzle of teriyaki sauce. Itadakimasu!
If you do not have sake, replace with rice wine or omit altogether. You won't be get an authentic teriyaki sauce, but it's Just As Delish.
Recipe by at https://justasdelish.com/teriyaki-salmon-bowl/