KOREAN-STYLE STEAMED EGGPLANTS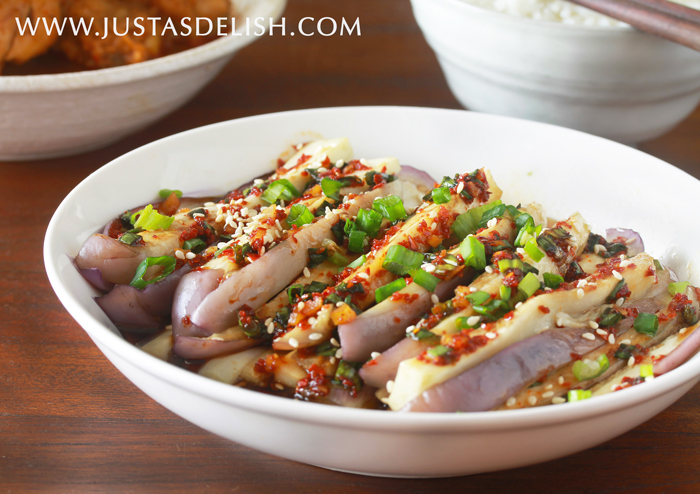 Author:
Slightly adapted from Kimchimom.com
Cuisine:
Main or Side Dish
4 medium (about 600g) long Eggplants - sliced longwise into 6-8 thin pieces.
2 stalk Spring Onions - thinly sliced crosswise
1 clove Garlic - minced
1 tablespoon Roasted Sesame Seeds
3 tablespoons Sesame Oil
3 tablespoons cup Soy Sauce (I used Tamari for gluten free soy sauce)
½ tablespoon gochugaru (Korean Red Chili Flakes) or ¼ Red Chili Flakes
pinch of salt
Slice the eggplants long wise, to about 6-8 thin pieces per eggplant.
Fill a large pot with about an inch or two of water and insert the steaming rack. Place the sliced eggplants in a heatproof deep plate and place it inside the pot.
Bring the pot to boil and lower the heat to steam until the eggplant flesh feels soft and saturated with moisture, for about 15 minutes.
Before the 15 minutes is almost up, mix together the remaining ingredients in a small bowl. (Note: I once mixed the sauce too early and the sauce became too spicy because the chili flakes were immersed too long.
Once the eggplant is done, remove the plate and drain the water (that accumulate from the steam) from the eggplant. Drizzle as much or as little sauce over the eggplant. Serve immediately.
Recipe by at https://justasdelish.com/korean-style-steamed-eggplants/