Minestrone (Vegetable Soup)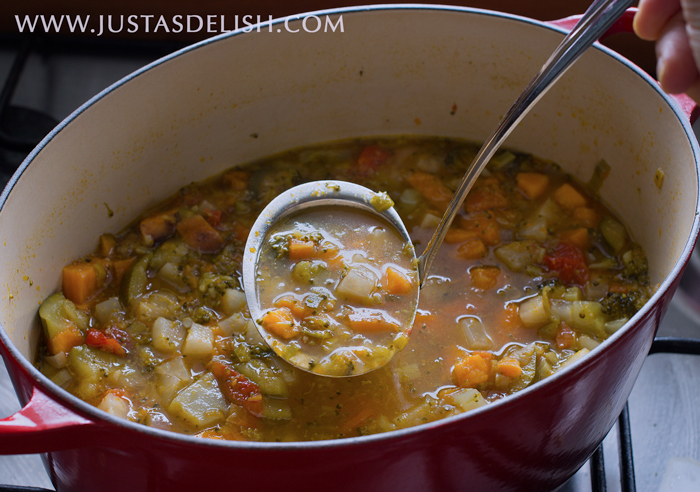 Author:
Adapted from Gennaro: Let's Cook Italian
Cuisine:
Appetizer / Main dish
5 tablespoon Extra Virgin Olive Oil
1 White Onion - finely chopped
1 clove Garlic - finely chopped
2 Potatoes - peeled and cubed (or sweet potatoes)
200g Pumpkin - peeled and cubed
2 Carrots - thickly sliced
1 Celery Stalk - thickly sliced
1 small Broccoli head - cut into small pieces
1 Zucchini - cubed
1 Leek - finely chopped
10 Cherry Tomatoes
1 cup Frozen Peas
1.5 litres Water (or vegetable stock)
1 cube Vegetable Bouillon
a handful Rice Vermicelli (or other small pasta shape)
Salt and freshly ground Black Pepper
A few fresh Basil Leaves, finely chopped
Optional Topping: Grated Parmesan
Heat the extra virgin olive oil in a large pot on low fire, add the onion and garlic, saute for 3 minutes until onion is translucent.
Add all the vegetables, the hard vegetables (carrots, potatoes, pumpkin) first, followed by softer ones, except the frozen peas, and mix well. Add water and bouillon, and bring to boil, then lower the heat and simmer gently for 30 minutes. Add the frozen peas 10 minutes before the end of the cooking time.
Add the rice vermicelli and boil for 1 minute. If you are adding pasta, cook it in the soup until al dente (about 10minutes) or as per the packet's instruction. Remove from the heat, season to taste and stir in the basil leaves. Serve immediately in individual bowls, with parmesan cheese and garlic bread if desired.
Recipe by at https://justasdelish.com/blog/minestrone-vegetable-soup/