Teriyaki Salmon Onigizaru (Rice Hamburger)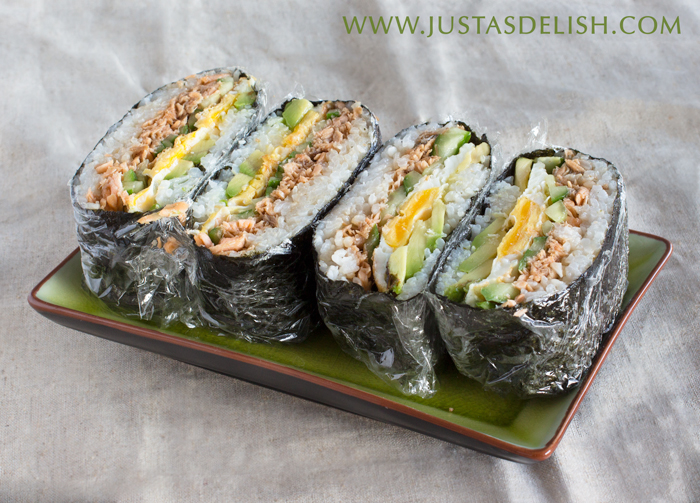 1 cup Cooked Sushi Rice (cook rice according to packet's instruction) - 1 cup = cooked from ½ cup rice)
150g Teriyaki Salmon (from this recipe) - shredded
1 Avocado - seed removed and thinly sliced
¼ Cucumber - cut into strips
¼ Carrot - cut into strips
2 Fried Eggs
2 piece Nori sheet
Lay out some plastic wrap and place a piece of nori seaweed on top of the plastic. Spread the rice into square shape on the seaweed.
Top rice with fillings in single/thin layers, 1 layer for each ingredient and stack them on top of the previous one.
Once that's done, top that with another thin layer of white rice.
Finally, wrap the edges of the nori seaweed sheet on top.
Then wrap it all up tightly with the plastic wrap and flip over, seam side down. Leave for a while for the nori seaweed to soften up slightly and bind all the ingredients well together.
Use a sharp knife to cut into half, Run water on your knife before cutting in half so the rice and nori won't stick to your knife and cross-section will be clean. Enjoy as is, or add on some chili sauce.
Recipe by at https://justasdelish.com/teriyaki-salmon-onigizaru/