Fresh Fruits Crumble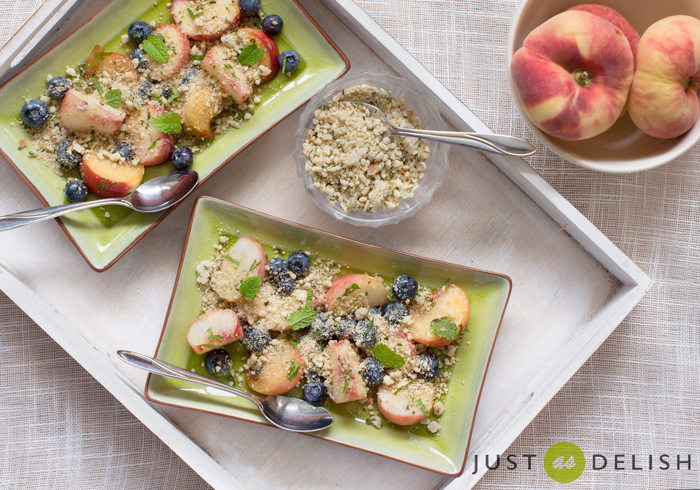 2 Peaches - sliced
A handful Blueberries
½ tablespoon Honey
4 tablespoon Crumble
4 Mint Leaves - thinly sliced
30 g (1/3 cup) Ground Almonds (or any preferred nuts)
30 g (1/3 cup) Buckwheat Flour for gluten free option (or Whole Wheat/Spelt Flour)
30g Rolled Oats
1 tablespoon Coconut Sugar (or Brown sugar / honey / maple syrup)
6-8 Mint Leaves - thinly sliced
2 tablespoon olive oil
Mix fruits, honey, lemon juice and mint in a medium bowl. The mixture chilled in the fridge until serving time.
Just before serving, scoop out mixture into 2 plates/bowls and sprinkle on cooked crumble. Enjoy immediately.
Combine all ingredients in a bowl and rub them together using your fingers until the mixture resembles breadcrumbs.
On the stove: Heat up a large pan on medium heat, pour mixture into pan and stir occasionally for about 5-10 minutes, making sure the mixture gets toasted evenly.
In the oven: Place onto a lined baking sheet, and bake at 180C/350F for 10 minutes.
When the topping is done, remove from the oven and let it cool completely before use. If you have any of the batch left unused, you can store it in an airtight container for a week.
An unbaked topping may be kept in the freezer. This crumble recipe also works great on baked crumbles.
Recipe by at https://justasdelish.com/blog/fresh-fruits-crumble/