1-Pan Sweet Potato Hash with Poached Eggs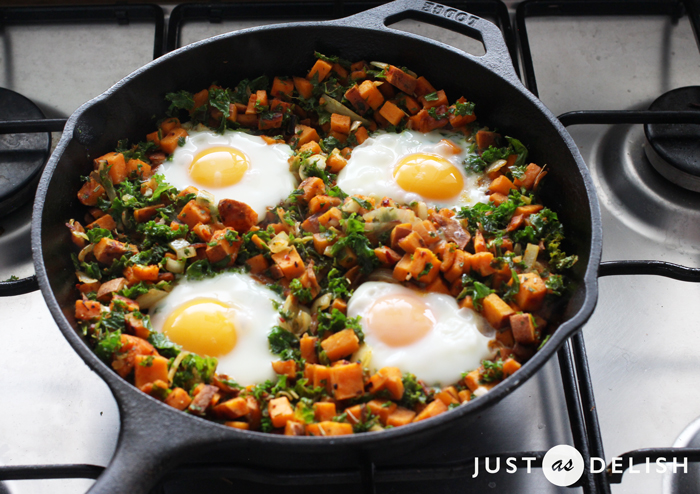 300g (10oz) sweet potatoes, skin intact - chopped into 2cm (½ inch) cubes
1 large yellow onions - finely chopped
2 cloves garlic
1½ cup chopped kale
2 tablespoon olive oil
2 teaspoon smoked paprika
1 teaspoon dried rosemary
a pinch of chili flakes
4 large eggs
Seasalt
Freshly ground black pepper
Add olive oil in a pan on low-medium heat. Add in sweet potatoes and saute until soften and almost cooked through (about 5-10 minutes). Splash a bit of water & cover to speed up the cooking process.
Add in onion & garlic and stir a bit to release the flavours.
Add in kale and spices and saute for 1 minute. Season with salt and pepper to taste.
Lower the heat, add in a bit of water, then make 4 holes in the mixture, crack in for eggs. Cover and cook on low heat for 4-5 minutes for runny eggs. For firmer eggs, cook for an extra 1-2 minute.
Recipe by at https://justasdelish.com/sweet-potato-hash/