Nasi Kerabu Kelantan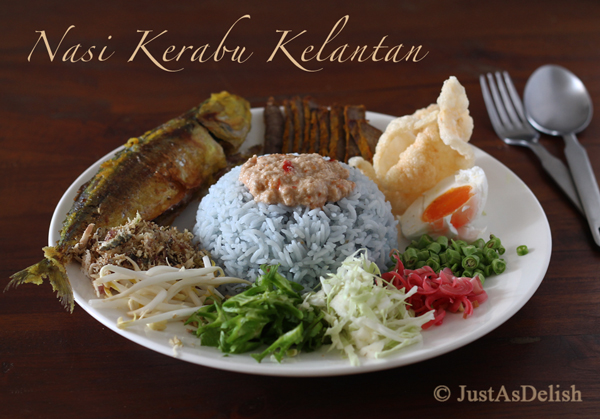 Author:
Adapted from Betty Saw's Cookbook & Mykitchensnippet
Cuisine:
Malaysian, Asian
Cooked Blue Rice
Mixture of Herb and Vegetable (Ulam)
Coconut Sauce (Sambal Tumis Kelapa)
Coconut Flaked Fish (Kerisik Sambal Ikan)
Choice of Accompaniments (optional)
200 gm (1 cup) Rice
8 Butterfly pea flower (Bunga Telang) - soaked in hot water or a few drops of blue coloring
2 Kaffir Lime Leaves (Daun Limau Purut) - optional
1 stalk Lemongrass - bruised (optional)
1 Mackerel - grilled/pan fry and remove the flesh
80g Grated Coconut
½ teaspoon Salt
1 teaspoon Sugar
4 Shallots
1cm Ginger - peeled
¼ tsp ground White pepper
3 Dried Chillies - soaked with hot water to soften
4 Shallots - peeled
300ml Coconut Milk
1 piece Dried Sour Fruit (Asam Gelugur / Asam Keping)
1 stalk Lemongrass (serai) - lightly bruised
½ teaspoon sugar
½ teaspoon salt - optional
1 teapoon Budu / Salted Anchovy Sauce - optional
Cucumber (did not use)
Cabbage Leaves
Bean Sprouts (Taugeh) - do not slice
Long Beans
Four Angled Bean (Kacang Botol)
Vietnamese Mint (Daun Kesum)
Kaffir Lime Leaves (Daun Limau Purut)
Lemongrass (Serai)
Torch Ginger Buds (Bunga Kantan)
Onion
Daun Penna
Cashew nuts leaves / Pucuk Gajus
Prawn Crackers (Keropok)
Boiled Salted Egg (Telur Masin)
Fried Fish (Ikan Goreng Tepung)
Grilled Beef (Daging Bakar)
Fried Chicken (Ayam Goreng)
Wash and drain the rice. Soak the rice with the butterfly pea flower water for 10 minutes (if using). Add in kaffir lime leaves and lemongrass and cook the rice as usual. If you are just using blue coloring, drop a few drops of the color and cook as usual.
Dry fry the grated coconut in wok/pan until lightly brown.
Pound shallot & ginger in pestle and mortar. Add in coconut and other ingredients, pound to mix well. If you do not have pestle and mortar, use a grinder/blender.
Combine dried chilies and shallots by grinding or blending in a blender. Into a pot, put coconut milk, ground chilies and shallots, dried sour fruit slices and lemongrass. Bring to a slow boil.
Simmer gently, stirring constantly for 10 minutes or until oil separates. However, if you are using canned coconut, the oil will not separate no matter how long you cook. In this instance, just cook until the gravy thickens.
Add sugar and salt or budu (whichever one you prefer), then transfer to a serving bowl.
Recipe by at https://justasdelish.com/nasi-kerabu-kelantan/