Roasted Sweet Potato Stacks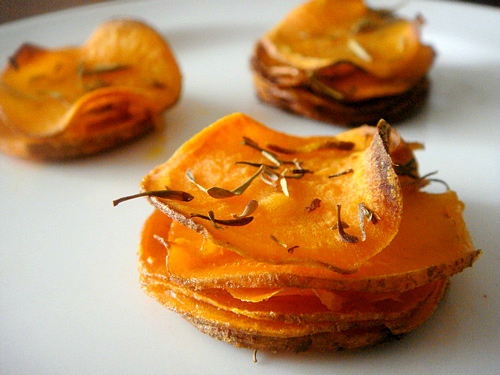 Author:
Adapted from Gourmand Recipes
Recipe type:
Side or Snack
3 tablespoons Olive Oil
2 cloves Garlic, minced
½ tablespoon Dried Thyme Leaves
½ tablespoon Dried Rosemary
500g round Sweet Potatoes - can leave the skin on if prefer more crunch
Salt and pepper
Preheat the oven to 350F/180C.
Make the garlic oil: Combine olive oil, garlic, thyme and rosemary in a small saucepan and gently warm over low heat until fragrant but the garlic is not brown. Remove from the heat and set aside.
Wash the sweet potatoes, pat dry and thinly slice them with a mandolin or a knife. (My mandolin was not sharp enough, so I used a knife)
Brush 9 muffin tin with the garlic oil with a pastry brush. Layer a sweet potato slice in the bottom of a muffin tin and brush it with a thin layer of garlic oil. Layer another slice of potato and brush it with the garlic oil. Repeat until it stacks up to the top of the muffin tin.
Repeat step 4 with a new muffin tin until you have a total of 9 potato stacks.
Season with salt and pepper.
Bake the sweet potato stacks in the preheated oven for 30-40 minutes or until the sweet potatoes are golden brown and cook through. Serve immediately with any main entrees or as a snack.
* Using a mandolin makes the cutting a breeze. It requires some knife skills (and patience) to slice the sweet potatoes thinly. * Heat up leftovers (which I doubt) in oven for 5 minutes before serving
Recipe by at https://justasdelish.com/roasted-sweet-potato-stacks/