Soba Salad with Sesame Dressing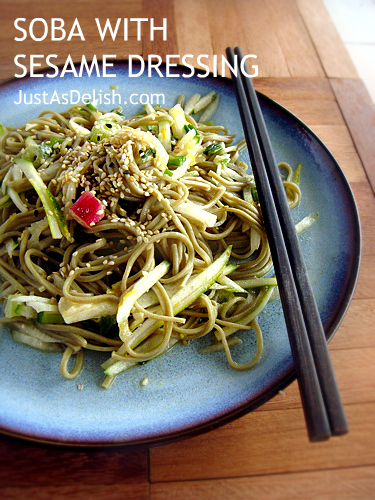 Recipe type:
Light Bite / Appetizer
240g Dried Soba Noodles (3 stacks of Soba Noodles)
¼ cup chopped fresh Coriander (not in mine, it's one of the food I cannot eat)
3 Green Shallots, thinly sliced
1 Cucumber, peeled, cut in half lengthwise, seeded, and thinly sliced
4 tablespoon toasted Sesame Seeds, for garnishing
Cook the soba in boiling salted water according to instruction on the packet. Mine says cook for 4 minutes. Then drain and rinse under cold running water.
While the soba is cooking, prepare the sesame dressing by combining the first 8 of the dressing ingredients. Whisk the mixture while slowly drizzle in the olive oil and sesame oil.
In a large mixing bowl, combine the soba, the dressing and the rest of the ingredients. Toss until well combined.
Serve and garnish with coriander and toasted sesame seeds.
Recipe by at https://justasdelish.com/blog/soba-salad/