Japanese Gyudon (Beef Bowl)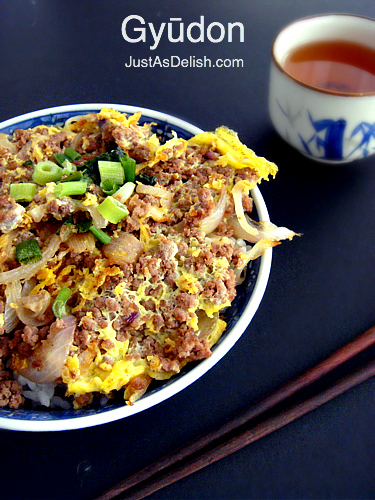 Author:
Adapted from Just One Cookbook
1 tsp. oil
1 large Onion, sliced thinly
200g sliced beef like Shabu Shabu beef (I used minced beef)
2 teaspoon Sugar
2 tablespoon Cooking Sake
2 tablespoon Mirin
1 tablespoon + 1 teaspoon Soy Sauce
2 Eggs - beaten
2 Green Onions - finely chopped
Heat oil in the wok or pan over medium heat. When oil is hot, stir-fry onions until wilted.
Add the beef and sprinkle sugar. Cook until browned, then add cooking sake, Mirin, and soy sauce. Reduce the heat and simmer until most of the liquid is gone.
Add eggs all over the meat. Once the eggs are almost cook, remove wok/pan from the heat.
Serve over rice drizzling the sauce over the rice and top with green onions and pickled ginger. 
Recipe by at https://justasdelish.com/japanese-gyudon-beef-bowl/