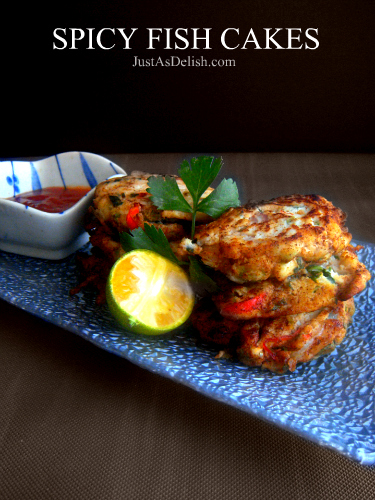 100ml Plain Yogurt
300g Mackerel Fillet (Tenggiri) - de-bone and cut into 2cm chunks.
1 Egg
3 tablespoon Thick Coconut Milk
1 level teaspoon Salt
1 level teaspoon Pepper
1 level teaspoon Sugar
1 tablespoon Fish Sauce
1 tablespoon Lime Juice
1 small Onion (70g) - quartered and sliced
1 Red Chilli - halved lengthwise and thinly sliced
3 heaped tablespoon roughly-chopped coriander (leaves and stalks)
2 Kaffir Lime Leaves - finely shredded
2 Long Beans - thinly sliced
4 - 5 tablespoon Vegetable Oil
Place the first 8 ingredients into the food processor and whiz until mixture forms a thick paste.
Transfer mixture into a bowl and stir in the onion, chilli, coriander, kaffir lime leaves and long beans. Mix well.
Using two spoons, form mixture into 3cm wide patties.
Heat oil in a frying pan over medium heat. Dip a wooden chopstick into the oil. The oil is ready when bubbles begin to appear around the tip of the handle.
Cook fish cakes for two to three minutes per side or until golden brown. Remove with a slotted spoon. Serve with a squeeze of lime juice and Thai chilli sauce.
Recipe by at https://justasdelish.com/blog/spicy-fish-cake/