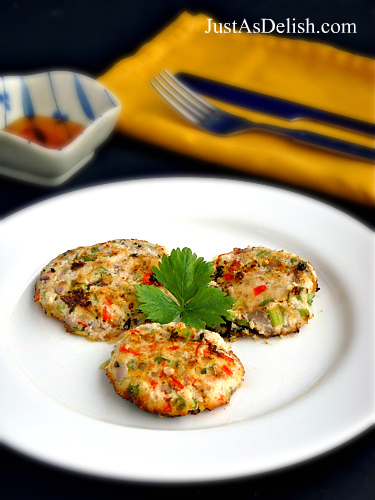 1 stick Celery stick - finely chopped
1 Large Onion - finely chopped
1 Carrot - finely chopped
½ Capsicum - finely chopped
½ Red Chili - deseeded and finely chopped
¼ cup Chopped Parsley
1 cup Okara (soybean pulp leftover from making soymilk)
½ cup Oatmeal
1 tablespoon Nori Flakes
½ teaspoon Salt
½ teaspoon Pepper
Place all ingredients into a bowl and mix well.
Take 1 tablespoon of the mixture and form into patties using your hand.
Heat oil in a pan over medium heat.
Cook patties for 2 to 3 minutes per side or until golden brown.
Serve with sauce of choice (I use sweet and sour sauce).
* The vegetables can be easily chopped in the food processor if you are lazy like me :) * Instead of shallow fry, these cakes can also be baked for 10 minutes on each side.
Recipe by at https://justasdelish.com/blog/seaweed-okara-cake/