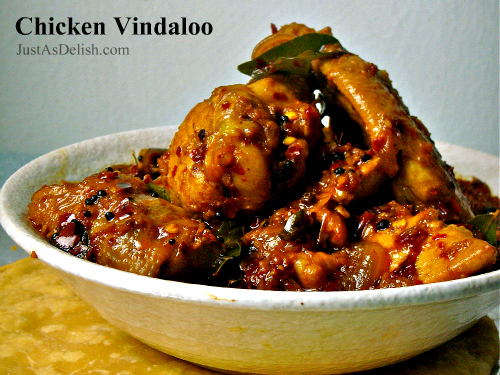 800g Chicken Thigh (cut into small pieces)
3 sprigs of Curry Leaves
10 Dried Chili (reduced half if prefer mild hot)
10 Shallots
6 Garlic cloves
1 inch Ginger
1 inch Tumeric (or replace with 1 teaspoon of turmeric powder)
1 big onion – cut half and sliced thinly
1 teaspoon Coriander Seeds
1 teaspoon Cumin
10ml water
2 tablespoon Rice Vinegar (add more if you like)
Salt to taste
3 tablespoon vegetable oil
Grind dried chili, ginger, turmeric, shallots and garlic in a food processor into paste.
Heat oil in a deep pot on medium heat. Add coriander seeds and cumin and stir until coriander seeds and cumin starts to crackle.
Add in onion slices and cook until onion is light golden brown.
Add in blended chili and stir fry for 1-2 minutes.
Add in chicken pieces and curry leaves, stir to cook chicken pieces for 1-2 minutes. Add water and cover to simmer on low heat for about 8-10 minutes until chicken is done. Add a little more water if the sauce dries up.
Add vinegar and salt to taste.
Serve Chicken Vindaloo with flat bread (naan or chapatti) or rice.
Recipe by at https://justasdelish.com/blog/chicken-vindaloo/