Korean Oven Fried Chicken Drumstick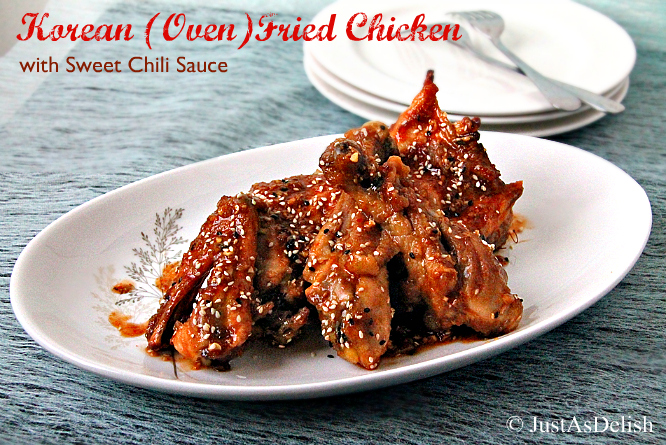 Recipe type:
ntrée / Main
8 Chicken Drumsticks or Chicken WIngs
¼ teaspoon Salt
2 tablespoon Cornflour
1 tablespoon Toasted Sesame Seeds or more
1 tablespoon Light Soy Sauce
1 tablespoon Rice Vinegar
1 tablespoon Honey
1 tablespoon Sesame Oil
2 tablespoon Ginger - grated
1 Garlic Clove - finely chopped
2 tablespoon Gochujang (Korean chili paste)
Wash and pat dry chicken drumsticks. Make 2 slits on each side of drumstick with a knife.
In a big container, place chicken, salt and cornflour and mix well. If it is too dry and cakey, add 1 teaspoon of water. You want a batter that is thick enough to coat the chicken, but not so thick that it cakes. Cover the drumsticks and refrigerate for at least 2 hours.
When ready to cook, preheat the oven to 475F/240C.
Arrange the drumsticks directly on the upper rack (without a tray). Place a tray on the lower rack to catch the dripping oil. Roast in oven for about 15 minutes (or until crispy) and turn the drumsticks over to roast for another 15 minutes.
While waiting for the chicken, combine the chili sauce ingredients in a large bowl and set aside.
When chicken is cooked, add to sauce, add sesame seeds, toss to coat and serve immediately.
Recipe by at https://justasdelish.com/blog/korean-oven-fried-chicken-drumsticks/