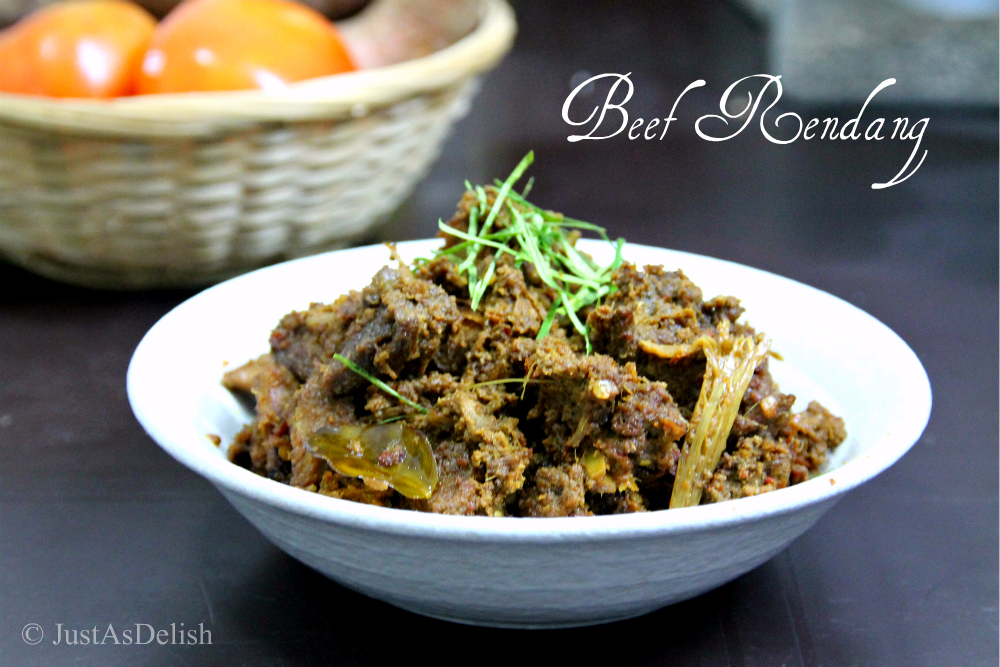 700g Beef, cut into 4cm cubes
550ml thick Coconut Milk
400ml Water
1 Turmeric Leaf, shredded and knotted
1 piece Dried Tamarind Skin (asam keping)
2-3 Kaffir Lime Leaves
2 stalks Lemongrass, crushed
6 Shallots, sliced
3 cloves Garlic, sliced
4 tablespoon finely Grated Coconut, for kerisik
3-4 tablespoon oil
15 Dried Chillies, soaked
3cm Galangal
3cm Ginger
1cm Fresh Turmeric (or 1 teaspoon turmeric powder)
1 teaspoon Ground Fennel
1 teaspoon Ground Black Pepper
2½ tablespoon Ground Coriander
Salt to taste
Grind the rempah (ground spices) ingredients in a food processor or use a pestle and mortar.
Marinate beef with grinded rempah for 15 minutes.
Toast grated coconut on a pan on low heat, until it turns brown and very fragrant.
Heat oil in a heavy-based pot on medium heat and fry shallots and garlic until fragrant and soft. Add lemongrass and marinated beef. Fry for 2-3 minutes.
Add water, coconut milk, kerisik, turmeric leaf, tamarind skin and kaffir lime leaves. Bring to boil, the curry will be light yellowish colour. Continue simmering over low heat for about 3 hours. Add salt to taste. The colour will turn to brown after coconut milk has evaporated. Stir occasionally so that the curry does not stick to the pot.
The rendang is ready when the colour turns dark brown and thick, and beef is tender.
Recipe by at https://justasdelish.com/blog/beef-rendang-malaysian-style/