Grated Carrot & Beetroot Salad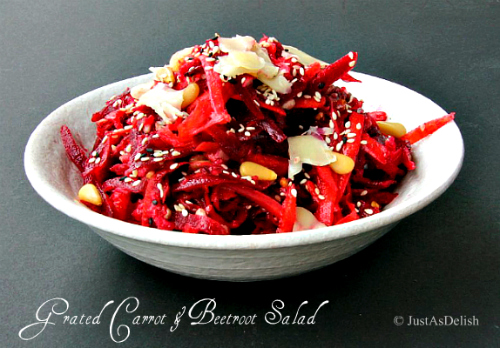 Author:
Inspired by Chocolate & Zucchini
300g Carrots
300g raw Beetroots (get small young ones with smooth skin and firm flesh)
a handful of toasted Nuts & Seeds (almonds, pine nuts, sunflower seeds)
Shaved parmesan or any cheese
2 cloves Garlic - finely minced and pressed with the side of knife
1 tablespoon Olive Oil
1 tablespoon Cider Vinegar (or balsamic vinegar)
1 teaspoon Honey
1 teaspoon Dijon Mustard
a pinch of Sea Salt
a sprinkle of toasted Sesame Seeds
Freshly ground black pepper
- Leafy fresh herbs (cilantro, or parsley), chopped
- Baby spinach leaves
- A grated apple or shallot
Peel and grate the carrots and beets.
Place the grated carrots, beetroots and rest of the main ingredients in a large salad bowl, and toss until well combined. Add any desired add-ins and toss again.
Taste and adjust the seasoning, and set aside for 30 minutes if you can before serving. The juice from the beets and carrots will make the salad more moist. If you want to serve immediately, add a dash of lemon juice or tomato juice to make the salad moist.
Recipe by at https://justasdelish.com/grated-carrot-beetroot-salad/