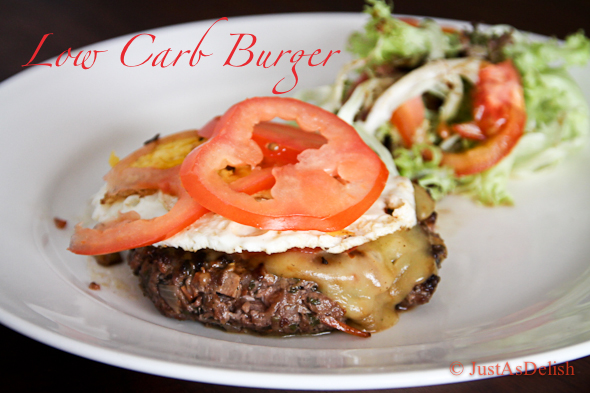 500g Lean Minced Beef / Chicken
50g Button Mushrooms - finely chopped
½ Carrot - finely chopped
½ rib Celery - finely chopped
1 Shallot - finely chopped
2 cloves Garlic - finely chopped
Salt and Pepper to taste
2 tablespoon Olive Oil or vegetable oil
2 Slices Ceddar Cheese
4 Eggs
1 Tomato - sliced
1 Capsicum - sliced
Green salad
In a pan over medium heat, heat 2 tablespoon oil or vegetable oil. Add the chopped vegetables, shallot and garlic; season with salt and pepper, cook about 2-3 minutes, then cool completely.
Combine the ground beef with salt, pepper and the cooled vegetables. Form four patties with your hands.
Heat the pan over medium-high heat. Cook the burgers for 10 minutes, turning once for medium doneness and top with ceddar cheese until melted.
After the patties are done, fry eggs in the pan. (or use another pan while the patties are cooking).
Top the burgers with egg, sliced tomato, capsicum and green salad.
Recipe by at https://justasdelish.com/low-carb-burger/