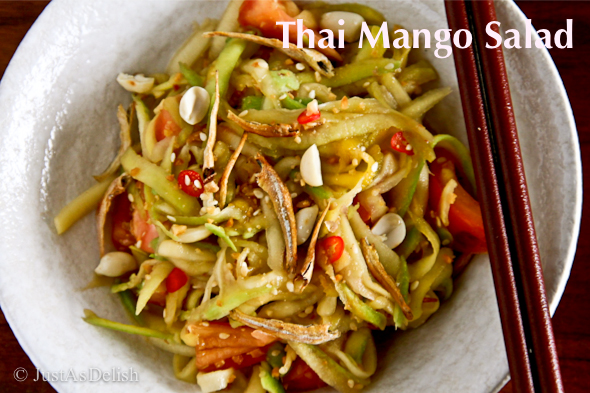 400g Unripe Mango
2 Shallots - thinly sliced
2 Red Bird Eye's Chillies
3 tablespoon Fish Sauce
4 tablespoon Lime Juice
20g Dried Shrimps
40g Peanuts - toasted
3-4 tablespoon Palm Sugar or Brown Sugar
a handful of Dried Anchovies - toasted, for garnishing (optional)
Peel the green mango and shred with a zigzag peeler or thinly sliced with a knife.
Soak the mango slices in ice cold water to make it crispy.
Slightly crush the chilies, shallots, dried shrimps and peanuts with a pestle & mortar.
Mix fish sauce, lime juice, and palm sugar in a small bowl.
In a big bowl, add in all the ingredients and toss well.
Garnish with some toasted anchovies. Serve as a side dish.
Recipe by at https://justasdelish.com/thai-mango-salad/