Jiu Hu Char (Jicama & Cuttlefish Stir Fry with Lettuce Wrap)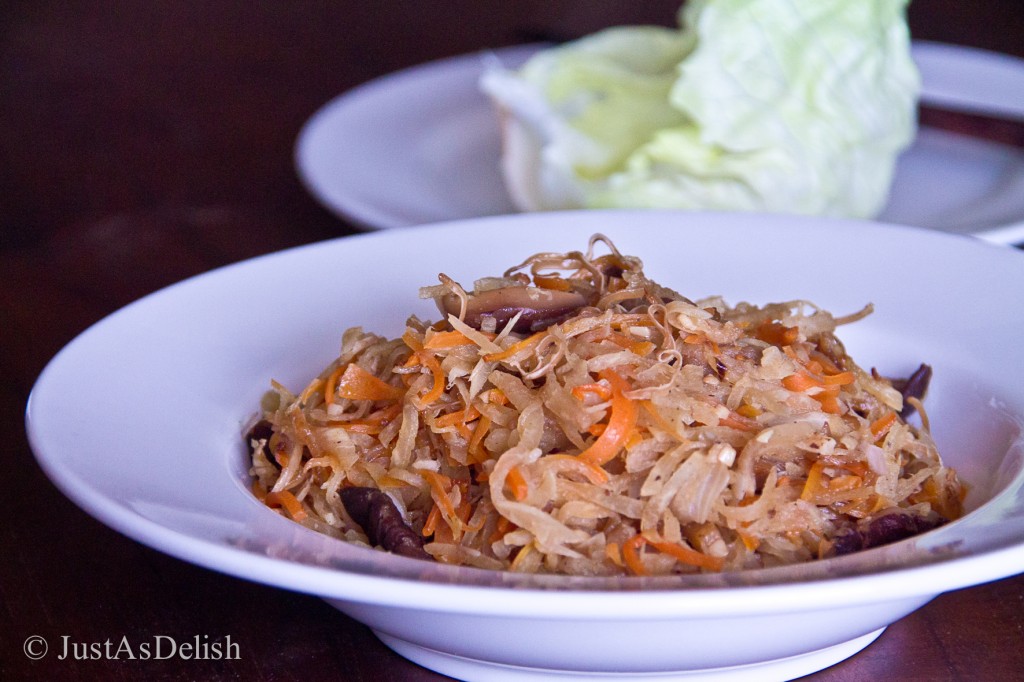 Recipe type:
Appetiser / Main
5 cloves Garlic - minced
3 Shallots - sliced
50gm Pork - sliced (I omit for my dish)
200gm Jicama / Sengkuang - shred finely
1 Carrot - shredded finely
3 leaves of Cabbage - shred finely
8gm Dried Cuttlefish - shred finely and soaked for 5 minutes
5 small Dried Shittake Mushrooms - soaked in hot water for 10 minutes and thinly sliced
Salt to taste
In a wok, heat oil. Saute garlic and shallot until lightly brown and fragrant.
Add pork, cuttlefish, and mushrooms. Cook until they soften.
Add jicama, carrot and cabbage and fry until cooked. Add 100ml water and switch fire to low, cover wok to slow cook for about 20 minutes until water has been almost absorbed and jicama is soft. (the longer you braise it, the more flavourful the dish will be).
Season with salt to taste.
Serve wrapped in fresh lettuce leaves with a side of sambal for a bit of zing.
Recipe by at https://justasdelish.com/jiu-hu-char/