Homemade Paneer (Indian Cottage Cheese)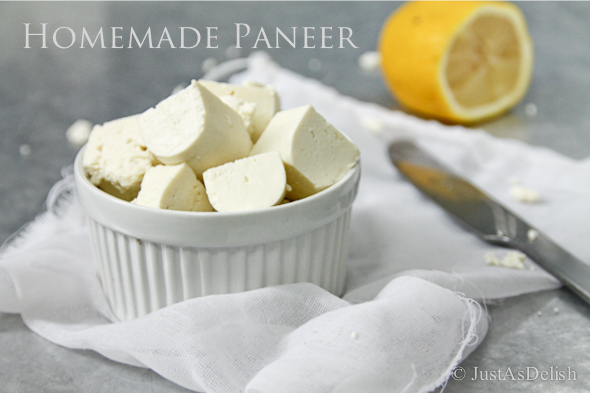 1 litre full-cream milk (use lean milk for a low-fat version)
1 tablespoon lemon juice
Heat milk in a medium pot to a simmer.
When the milk comes to a simmer, switch of fire. Add lemon juice into it. Stir continuously until the milk is completely curdled. There is a separation of the curds and yellowish whey.
Strain the mixture through a clean muslin cloth over a large bowl.
Hang the muslin for 1 hour (tie over kitchen faucet or place the muslin on the side of a big pot, do not touch the bottom of pot). This will drip out all the whey.
To make the paneer into a block, place the muslin in between 2 chopping blocks with something heavy like a pot on top, for 1 hour.
Cut paneer into chunks and serve as appetizer, .
Recipe by at https://justasdelish.com/homemade-paneer/