Palak Paneer (Spinach Paneer)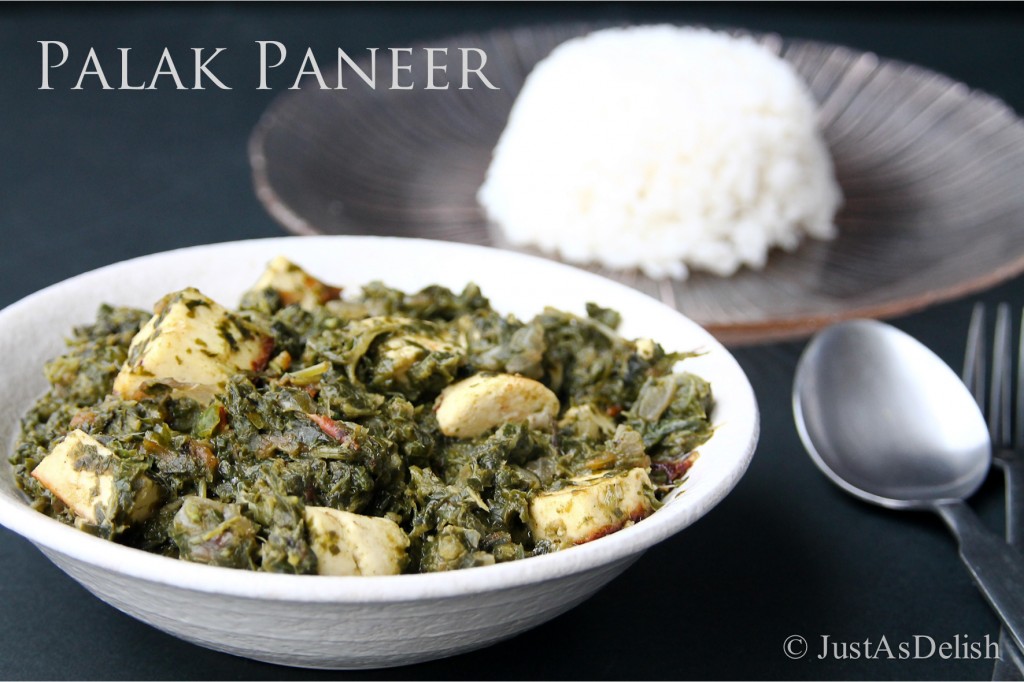 Author:
Adapted from KiranTarun's recipe
150g Paneer - cut into 1 inch cubes
1 tablespoon Ghee (I used butter)
1 tablespoon Cooking oil
1 tablespoon Fenugreek Seeds
½ red onion, chopped
1 tbsp fresh garlic, grated
½ tablespoon Ginger - grated
2 Green Chilies - minced
1 Tomato - finely chopped
½ tablespoon Ground Cumin
½ tablespoon Ground Coriander
3 handfuls of Spinach - just the leaves
1 Green Capsicum - sliced
½ cup Yogurt
½ cup Coriander Leaves (I didn't use)
70ml Water
1 teaspoon Garam Masala
Salt to taste
Soak cubed paneer in hot water. (I skip this because my paneer was just freshly made)
Add spinach, bell pepper, fresh coriander and yogurt in a food processor or blender. Pulse until smooth. Add a bit of water if needed to help the blending process.
Add ghee to non stick skillet / wok on medium heat. Add fenugreek seeds and chopped onions, fry till fragrant.
When onions are translucent and soft, add garlic, ginger, minced chilies and chopped tomatoes. Fry until fragrant & oil slightly separates.
Sprinkle in ground cumin & coriander. Mix to combine.
Add pulsed green sauce. Simmer for 15 minutes or until sauce has slightly thicken & excess liquid evaporates.
Meanwhile, drain paneer and pat-dry to remove any excess moisture.
In a separate non-stick pan, add 1 tablespoon of cooking oil on low to medium heat. Pan-fry paneer until slightly browned on all angles.
Add pan-fried paneer's into spinach sauce with garam masala. Mix to combine and simmer for 2 minutes.
Serve hot with flat bread/rice.
Recipe by at https://justasdelish.com/palak-paneer-spinach-paneer/