Spinach & Mushroom Quiche with Zucchini Salad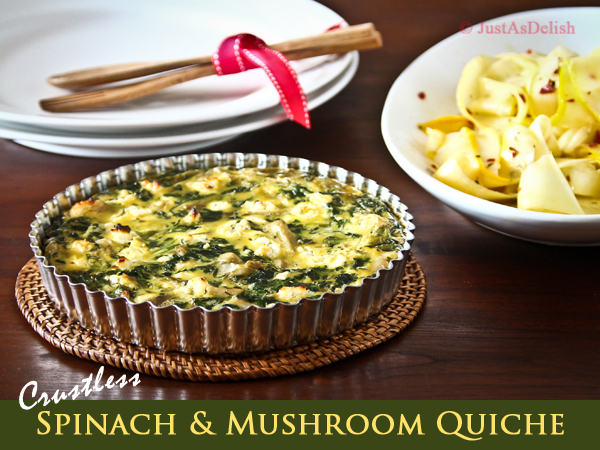 1 tablespoon Vegetable oil
2 big handful of Spinach - remove stems and roughly chopped
Fresh Mushroom (Shiitake, Osyter or Wild Mushroom) - roughly chopped
4 Eggs - beaten
150ml Milk
200g Cheese of choice - grated (I used Feta)
1 teaspoon Salt
Freshly ground Black Pepper
1 Large Zucchini
1 Red Chili
1 clove of Garlic
2 tablespoon Olive Oil
1 tablespoon Lemon Juice
Sea Salt & Ground Black Pepper to taste
Preheat oven to 350 degrees F (175 degrees C). Lightly grease a 6 inch pie tin with oil.
Heat oil in a pan over medium-high heat. Add mushroom and saute for about 1 minute. Add in spinach and continue cooking until excess moisture has evaporated.
In a large bowl, combine eggs, milk, cheese, salt and pepper. Add in the spinach mixture and mix well. Pour into pie tin.
Bake in preheated oven until eggs have set, about 30 minutes. Let it cool for 10 minutes before serving.
Deseed a red chilli and chop finely. Finely chop/grate a clove of garlic.
Mix together chili, garlic, extra virgin olive oil and a squeeze of lemon on a large plate.
Slice zucchini lengthways with a speed peeler or a mandolin. Sprinkle them with a little sea salt and freshly ground black pepper, mix well with your hand.
Recipe by at https://justasdelish.com/crustless-spinach-mushroom-quiche-with-zucchini-salad/