Vietnamese Lemongrass Beef Rice Paper Roll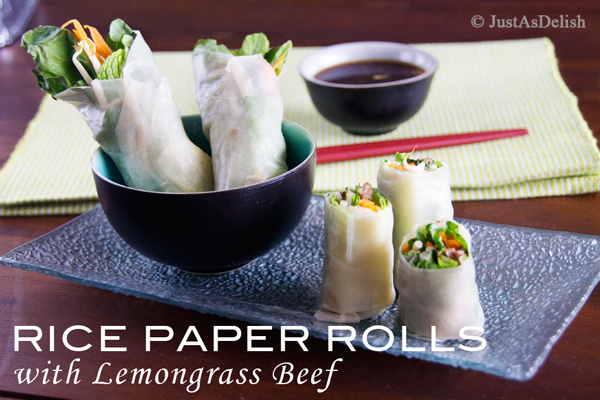 12 Rice Paper Rounds
12 sprigs fresh Mint Leaves
1½ cups (120g) Bean Sprouts
1 large Carrot - Grated
12 sprigs fresh Sweet Basil (Daun Laksa/Kesum)
1 head Lettuce - leaf separated and tear of stiff spine
Place grated carrots in a bowl of dipping sauce.
Prepare a deep plate or large bowl deep enough to dip filled with hot water. Dip one rice paper round into bowl of warm water until soft (it takes a minute or two). It's ready for wrapping and rolling when it's pliable and slightly tacky – like a Post-it note.
Place lettuce leaf horizontally on the edge of rice paper near to you. Top with 2-3 mint leaves, grated carrots, sprouts, basil and beef. Don't over stuff or the roll may burst, just have a bit of each ingredient for the flavour.
Fold in the two side flaps, and then roll the entire thing up. This is for close ended roll.
Repeat Step 3 to make a total of 12 rolls.
Serve with Dipping Sauce.
Recipe by at https://justasdelish.com/lemongrass-beef-rice-paper-rolls/