Muhibbah Monday : Bubur Pulut Hitam (Black Glutinous Rice Dessert)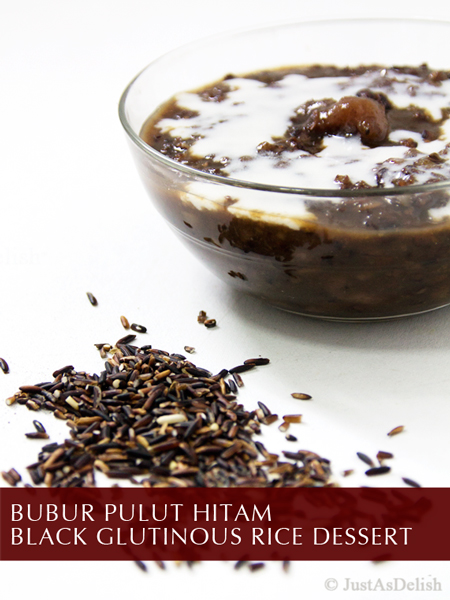 200g Black Glutinous Rice (Pulut Hitam)
120g Palm Sugar (Gula Melaka)
1.5 liter Water
10 Dried Longan - Optional
150ml Coconut Milk
2 Pandan Leafs (Screwpine Leaf) - Optional
pinch of Salt
Toast the black glutinous rice in a frying pan on high heat. By doing this, it will release the nutty aroma of the rice. Wash the rice and rinse thoroughly.
Add rice, dried longan and water into 3 liter slow cooker and cook on high setting. The water will be reduced and getting thicker, add more water if it becomes too dry. Cook until the rice is soft and mushy, about 3-4 hours and switch off the cooker. The porridge should be thick, with minimal water.
Add palm sugar, stir until dissolved.
In another small pot, heat up the coconut milk, pandan leaf and a pinch of salt on low fire. Bring it to a gentle simmer and switch of the fire. Remove the pandan leaf.
Serve the porridge hot, with a few spoonful of coconut milk on top. I also love it served cold.
If cooking the rice in a pot, bring it to a boil and lower the heat. Simmer the mixtures for about 2 hours, constantly stirring every 15 minutes to prevent the rice from sticking or burning the bottom of the pot. If the water dries out, add some water.
Recipe by at https://justasdelish.com/bubur-pulut-hitam-black-glutinous-rice-dessert/