Teochew Steamed Fish Recipe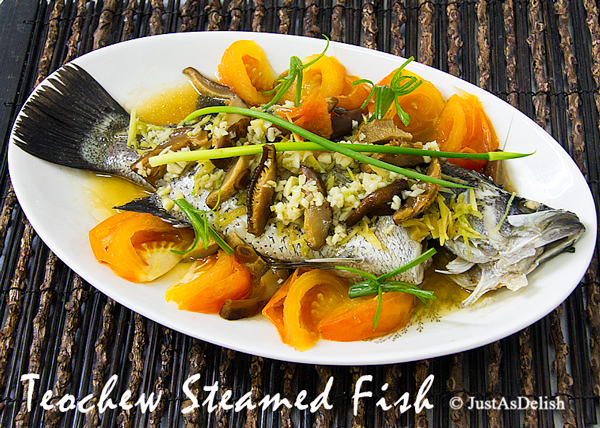 1 medium Whole Fish (such as seabass/white pompret/garoupa) – I ask the fishmonger to clean it for me
1 inch Ginger - thinly sliced strips
1-2 medium Tomato - cut to small wedges
2 Dry Shiitake Mushrooms - soaked in water & sliced thinly
80g salted vegetables - sliced thinly about 1cm
2 Salted Plums (optional)
1 tablespoon Light Soy Sauce
2 tablespoon Water (adjust according to your preference)
Spring onions (scallions) - sliced thinly to wispy strips to garnish (optional)
2 clove Garlic - finely chopped
2-3 tablespoon Cooking Oil
Make two diagonal cuts along the body of the fish (the fleshy part) on both sides. Place fish in a heatproof plate (most porcelain plates are heatproof). Add water and scatter the rest of the ingredients (ginger strips, salted plums, tomatoes, remaining salted vegetables & mushrooms) over the fish and around the plate. Drizzle light soy sauce over the fish.
Bring the water in the steamer/wok to a boil, then place the fish to steam on high heat for 10-15 minutes. Note: The bigger the fish, the longer it takes . Do not over-steam as the meat will become tough.
When the fish is ready, drizzle garlic oil (Optional) and garnish with spring onions. Serve immediately with rice.
Heat cooking oil in a small pot and bring to boiling hot. Place chopped garlic in a small bowl and pour boiling hot oil over the garlic. The oil will sizzle when poured over the garlic.
Recipe by at https://justasdelish.com/teochew-steamed-fish-recipe/