Ayam Masak Merah (Chicken Spicy Tomato Sauce)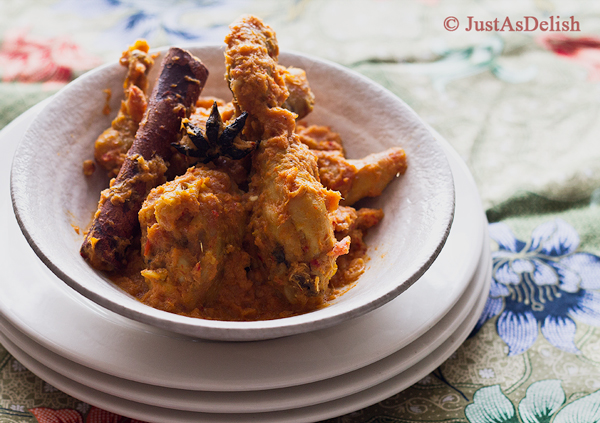 1kg Chicken - cut into 8 pieces
10 Dried Chillies, soaked
1 Red Onion
3 cloves Garlic
20g Ginger
15g Galangal (Lengkuas)
3 Lemongrass
2 Star Anise
2 Cloves
2 inch Cinnamon
1 Cardamom
200g Tomato Puree
200ml Coconut Milk
Salt to taste
Vegetable oil for deep frying plus ¼ cup extra
Rub chicken with turmeric and salt. Set aside for 30 minutes. Heat up the oil in a wok and deep fry the chicken pieces until golden in colour. Set aside. (For Oven Frying, Rub chicken with turmeric, salt and 3 tablespoon corn flour, marinate for 2 hours in the fridge. Arrange chicken onto the middle rack in the oven and place a tray on the rack below to catch the dripping oil. Roast for 30 minutes on 475F)
Roughly chopped red onion, ginger, galangal and lemongrass, then transfer to a blender or food processors. Add in chillies and garlic. Process into a paste.
Heat up the wok with ¼ cup of oil, sauté the spices (cinnamon, star anise, cloves and cardamom) until fragrant. Then add in the blended paste. Bring the heat up until the paste bubble then lower the heat. Simmer till the oil separates from the paste.
Add in tomato puree, coconut milk and chicken pieces. Bring up the heat for a quick boil, then lower to a simmer and cook until the sauce thickened. Add salt to taste.
Recipe by at https://justasdelish.com/blog/ayam-masak-merah/