Creamy & Easy Fruity Sorbets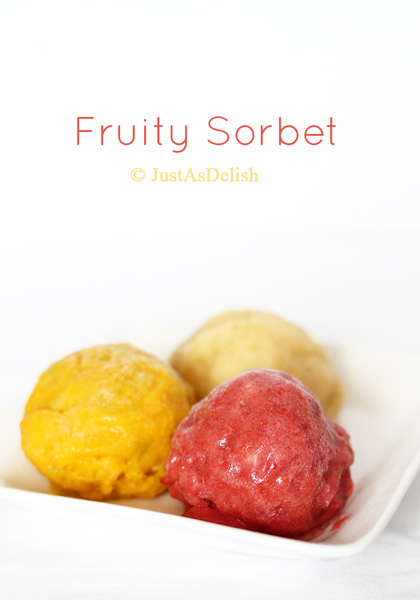 1½ cups Frozen Strawberries
1½ Fresh Bananas
¼ cup Lemon Juice
1 tablespoon Honey
1½ cups Frozen Pineapple
2 Fresh Bananas
¼ cup Lemon Juice
1 tablespoon Honey (or more)
1½ cups Frozen Mango
1 Fresh Bananas
⅓ cup Lemon Juice
1 tablespoon Honey
Thaw the frozen fruit for 5 minutes so that it blends easily.
Add all ingredients to a high speed/high quality blender like a Vitamix. Blend until smooth - do not over blend. You do not want to "melt" the mixture. Keep it as thick and frosty as possible.
Pour into freezer-friendly container, a chilled metal container works best.
Chill until firm. Scoop and serve!
Recipe by at https://justasdelish.com/blog/fruit-sorbets/