Gerang Asam (Spicy & Sour Fish Curry)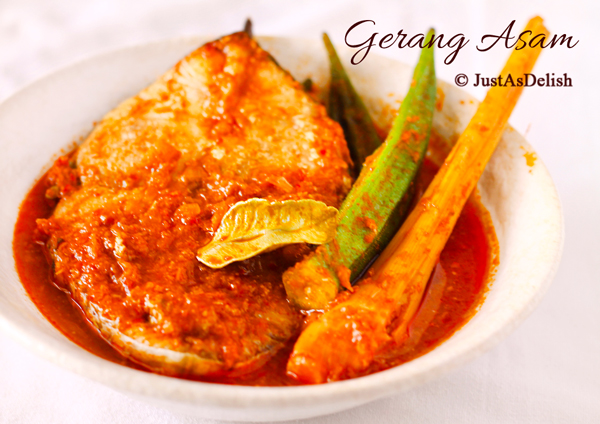 Author:
Florence Tan - Recipes from the Nyonya Kitchen (as seen from Intan's Kitchen)
175ml Cooking Oil
3 cups Tamarind Juice (750 ml water + 75 gm tamarind pulp)
900g Mackerel - sliced into 11/2 inch pieces
2 Kaffir Lime Leaves (optional)
½ teaspoon Sugar
2½ teaspoon Salt
20 young Lady Fingers / Okra
Heat the cooking oil and fry finely ground paste until fragrant.
Add the tamarind juice and bring to a boil. Simmer for 4 minutes.
Increase the heat and add fish, kaffir lime leaves, sugar and salt. Cook for 4 minutes.
Add lady's fingers and cooked for another 5 minutes until the fish is done and lady's fingers are tender.
If using pestle & mortar, add the ingredients bit by bit and pound until it become fine paste. Might take more than 15 minutes.
If using food processor, add all the ingredients and grind until it become fine paste.
If using blender, add all the ingredients and the oil from the main ingredient list to help it grind (because blender needs liquid to blend). Then you do not need more oil when cooking the paste.
Recipe by at https://justasdelish.com/gerang-asam-nyonya-cuisine/