Simple Hawaiian Salad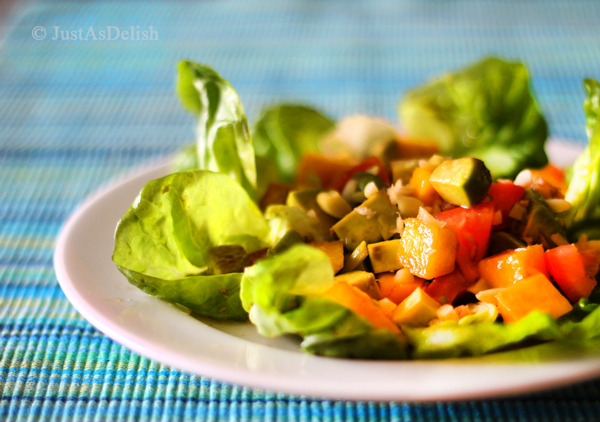 200g

Salad Greens (use a mixture of lettuce and arugula)
1 Avocado - cubed
½ medium Papaya - cubed
1 Mango - cubed

100g

Cherry Tomatoes - cut in halves

100g

Macadamia Nuts - roasted & finely chopped
⅛ cup Balsamic Vinegar
¼ cup Extra Virgin Olive Oil
½ teaspoon finely chopped Garlic
½ teaspoon finely chopped Shallots
Salt and pepper to taste
In a large bowl toss salad greens with about half of the prepared Balsamic Vinaigrette; set aside.
In another bowl, toss avocado, papaya, mango and macadamia nuts; toss with remaining Balsamic Vinaigrette, and salt and pepper to taste.
Arrange equal portions of the salad greens and avocado mixture and serve immediately.
In a screw top jar, combine all ingredients. Cover jar tightly and shake vigorously for 20 seconds. Makes about ¾ cup.
Recipe by at https://justasdelish.com/hawaiian-salad/