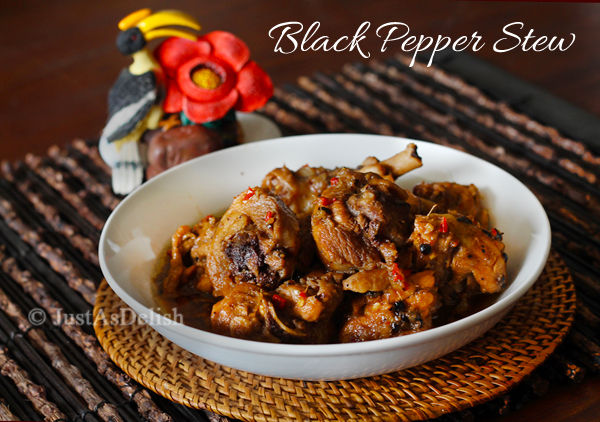 Author:
Sarawak Ethnic Cuisine
500g Meat (I used chicken, let the exotic animals stay in the forest)
5 cloves Garlic
5 Shallots
5cm Ginger
3 tablespoon Black Peppercorn - coarsely pounded
1-2 Cili Padi (Bird Eye's Chillies)
1cm cube Belacan (Shrimp Paste)
Salt to taste
Cooking oil for saute
2 liter water
Any sourish vegetables such as Terung Dayak (yellow eggplant), Pucuk Daun Kedondong (Ambra Leaves) or Pucuk Daun Mengkudu (all slice thinly)
1 piece Asam Keping (Dried Tamarind) for added sourish if preferred
1 piece Turmeric Leaves for additional fragrance
A dash of Whiskey
Pound garlic, shallots and ginger together using pestle & mortar, or food processor.
Finely chopped bird eye's chilli and shrimp paste together.
Heat up pot with 2 tablespoon cooking oil. Saute garlic, shallots and ginger mixture until fragrant on medium high heat. Then add in the shrimp paste mixture.
Add in meat and stir fry. Lower heat, then cover pot with lid for about 15 minutes.
Add water and mix thoroughly. Turn the gas to medium low. Cover, and let it cook for about 1 hour until the meat soften, or the water reduced to ⅓.
Stir-in the black peppercorn, sour vegetables, and salt to taste. Add a dash of whiskey if preferred. Cook for another 10minutes, and it's ready to be served.
Recipe by at https://justasdelish.com/blog/dayak-black-pepper-stew/