Thai Mieng Kham (Wrap Betel Leave)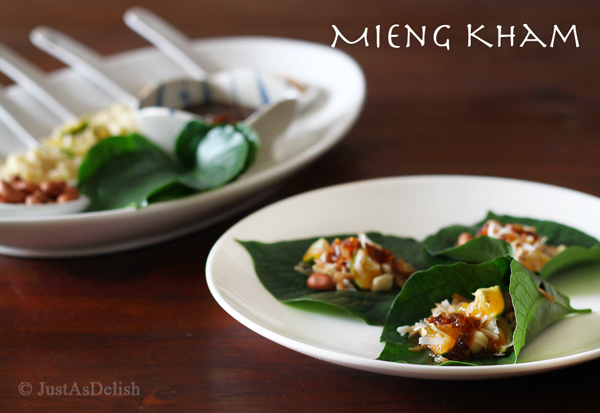 Author:
Real Thai Recipes http://www.realthairecipes.com/recipes/leaf-wrapped-snack/
Recipe type:
Appetiser / Snack
¼ cup Dried Shrimp
¼ cup Toasted Peanuts
20-30 Betel Leaves, (or substitute Lettuce Leaves)
1 Lime (with skin - the thinner the skin, the better) - cut into small
¼ cup Shallots - cut into small pieces
20 Bird Eye Chilies (chili padi) - cut into small pieces
½ cup grated toasted Coconut
¼ cup Young Ginger - cut into small pieces
½ tablespoon finely sliced Galangal
⅛ cup chopped Shallots
1 cup Water
1 cup Palm Sugar (Gula Melaka) - grated/crushed
1 tablespoon Fish Sauce
¼ cup grated Toasted Coconut
Dry roast the coconut in a wok on medium high, stirring constantly to avoid burning. Cook until the coconut is medium brown, about 5 minutes. Set aside the amount used for the sauce, and put the rest into a serving bowl.
Cut up all the ingredients which are not to be put into the sauce into small ¼″ pieces. Arrange in small bowls, or in piles on a plate.
Now, for the sauce… In a stone mortar & pestle, pound together the shallots and galangal until fine. Set aside.
To eat… Take a leaf and fold the bottom to make a pouch (see first picture above). Put a large pinch of roasted coconut, a piece or two of other ingredients: shallots, lime, ginger, peanuts, shrimp and a chili if desired. There is no 'proper' order to put them in. Then, add a bit of sauce on top, roll the leaf to make a packet, and eat in one bite. Eating Mieng Kam is like a taste explosion.
In a small sauce pan, add the water, fish sauce, palm sugar & shallot/galangal mixture.
Boil over medium heat to reduce the sauce to the thickness shown in the picture below. You're going to boil off about ½ the liquid. Make sure to keep stirring every now and then.
Add the roasted coconut, remove from heat, and put into a small bowl.
The Palm Syrup Sauce is made extra, can be stored in the fridge for a few weeks
Recipe by at https://justasdelish.com/blog/mieng-kham/