The Real Mushroom Soup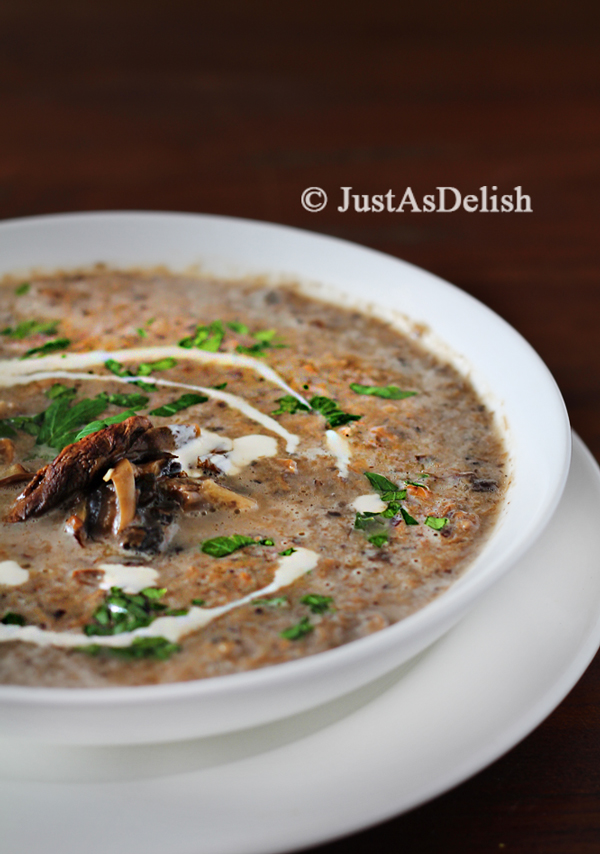 Author:
Adapted from Jamie's Dinners
Olive Oil
300g mixed Fresh Mushrooms (shitake, oyster, portabello, button) - cleaned and sliced
2 cloves Garlic - peeled and finely sliced
1 small Onion - peeled and finely chopped
½ tablespoon Butter
1 teaspoon Dried Thyme (or a handful of fresh thyme leaves)
500ml Vegetable Stock, preferably organic
Sea Salt and Freshly Ground Black Pepper to taste
a handful of fresh Parsley - roughly chopped
2 tablespoon Cream (optional)
1 Lemon - grate for zest & juice (optional)
Truffle Oil (Optional)
Heat up a medium pot, add about 2-3 tablespoon of olive oil and your fresh mushrooms. Stir around very quickly for a minute, then add your garlic, onion, butter and thyme. After 1 minute, you'll probably notice moisture cooking out of the mushrooms. Carry on cooking for about 10 minutes until most of the moisture disappears.
Season to taste, and add your stock. Bring to the boil and simmer for around 20 minutes. Remove half the soup into another pot and whiz it up to a purée with a hand blender (or pour into a blender to puree), then pour it back in.
Garnish with parsley & drizzle of cream
You can serve this soup as you like, or you can try Jamie's suggestion. Quickly stirfry some nice-looking mushrooms like oyster and sprinkle these on top of the soup with lemon zest and spoon some lemon juice. When you go to eat it, stir it in and it gives a wonderful flavour. If using truffle oil, a few drips on the top just before serving and leave out the lemon.
Recipe by at https://justasdelish.com/the-real-mushroom-soup/