Gluten Free Apple Strawberry Cake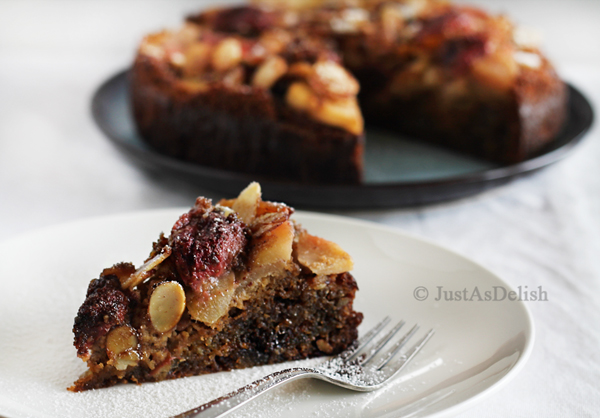 Author:
Li Goh of The Haute Food Co
250g Butter
200g Sugar (I used 150g brown sugar)
2 teaspoon vanilla paste / extract
4 eggs
180g Almond meal (ground almond)
60g Pecans - finely chopped (can substitute with almond/walnut)
30g Buckwheat Flour
½ teaspoon Salt
2 Large Green Apples - cored and thinly sliced
10 Strawberries - sliced half
2 handfuls Almond Flakes
2 teaspoon Sugar
½ teaspoon Cinnamon Powder
Beat butter, sugar & vanilla paste together at medium speed. Slowly increase to high speed.
Add eggs, one at a time.
Mix in almond meal, pecans, buckwheat flour and salt by hand.
Prepare a 20cm round tin by greasing and lining the base and sides with parchment paper. (Do not skip this step or the cake may stick to the tin
Pour the batter into the cake tin, then lay green apple & strawberry slices on top of batter. Top with almond flakes and scatter the cinnamon sugar (combine sugar + cinnamon powder)
Bake in pre-heated oven at 180C until inserted cake needle comes out clean, about 50-60minutes.
Recipe by at https://justasdelish.com/gluten-free-apple-strawberry-cake/