No Bake Ricotta Cheesecake Bites with Pecan Base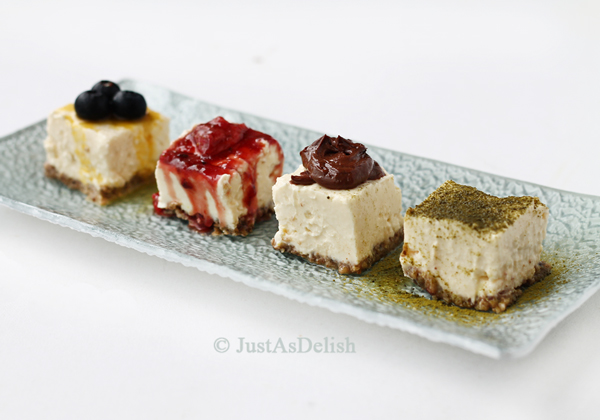 1 225g Cream Cheese - bring out from fridge to soften
1 225g Ricotta Cheese
1 tablespoon Honey, or to taste
Zest of 1 Lemon
100g moist Dates - pitted
100g Ground Pecans or Walnuts
a handful of Blueberries
Passionfruit Sauce
Strawberry Sauce
Chocolate Ganache
Green Tea Powder
Combine the Base Ingredients in a food processor.
Press the processed based evenly into bottom of a 20cm square tray/container (lined with parchment paper) to form a crust about ½cm thick.
Using the food processor or mixer, combine cream cheese, ricotta, honey, lemon rind and blend until smooth.
Spread cheese mixture carefully and evenly over crust, using a spatula or butter knife to smooth top. Chill for 1-2 hours, or until set.
When you are ready to serve, cut into 4cm squares and add the topping.
Scoop out passionfruit pulp and press out the juice using a sieve. Cook the juice over low heat with sugar until thicken. (or you can add some pectin to juice to thicken). Place blueberry on cheesecake and spoon passionfruit juice over it.
Cook strawberry with a bit of water & sugar, until slightly thicken.
Cook 2parts cream, take off heat and stir in 1 part 70% chocolate until chocolate have melted.
* This is cheesecake bites is to be served immediately. The cheesecake bites does not keep well because the liquid from the cheese seeps into the base and makes it slightly watery the next day. * You can also opt for digestive biscuit base. Combine 16 crushed biscuit with ¼ cup ground pecans or walnuts & 3 tablespoon melted butter
Recipe by at https://justasdelish.com/no-bake-ricotta-cheesecake-bites/