Ayam Golek Gaya Pahang (Pahang Style Spicy Grilled Chicken)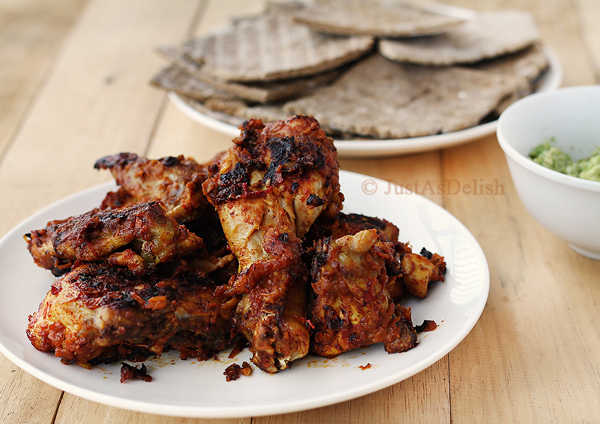 Author:
Rasa Malaysia by Betty Saw, as seen on Phong Hong Bakes
1 whole Chicken, about 1.5kg - cut into 8 large pieces
2 teaspoon Salt
2.5cm Fresh Turmeric - pounded (or 2 teaspoon Turmeric powder)
1.5 tablespoon Meat Curry Powder
Blended Chili Paste
2 pieces Asam Keping (Dried Tamarind)
500ml thin Coconut Milk (dilute 250ml coconut milk with 250ml water)
20 Dried Chilles - soaked
300g Shallots - slice thickly
2 stalks Lemongrass - thinly sliced only the white part
1.25cm Ginger - slice thickly
1 teaspoon Salt
Marinate chicken with salt and tumeric for 15 minutes.
Mix blended ingredients, curry powder, sugar, salt, asam and coconut milk in a pot and simmer over low heat until thick.
Grill chicken for 15 to 20 minutes until both sides are brown and cooked (You can also grill in the oven at 180C for 15 minutes)
Spoon the gravy onto chicken and continue to grill for 5 minutes until fragrant and oil rises to the top (After grilling the chicken for 15 minutes, keep basting the chicken generously every 10 minutes for another 30 minutes until the chicken is cooked and gravy is thick and slightly browned).
Serve with rice or flat bread.
Recipe by at https://justasdelish.com/ayam-golek-gaya-pahang-spicy-grilled-chicken/