Nasu Dengaku (Grilled Miso Glazed Eggplant)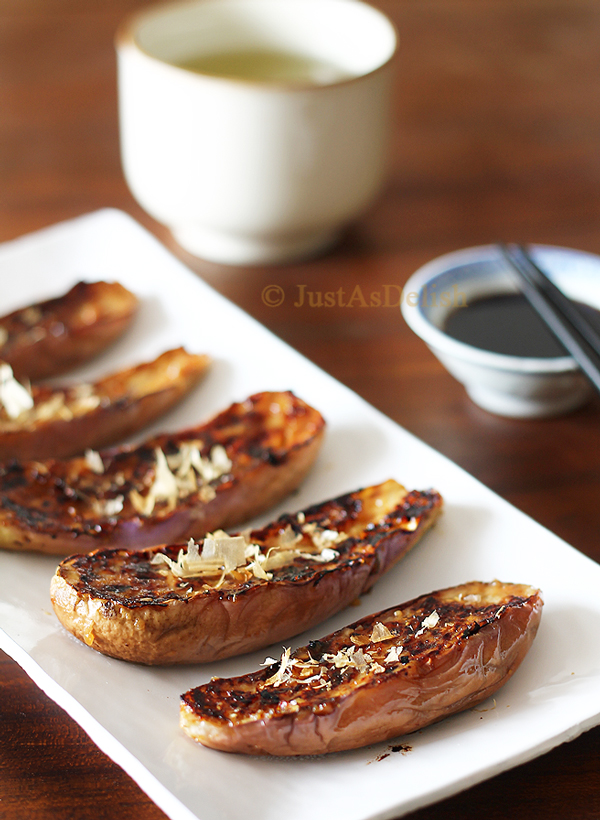 Author:
Adapted from Justhungry.com
Recipe type:
Appetiser, Main
4 small Eggplants - cut in half lengthwise
Vegetable oil for brushing
Toasted Sesame seeds
Bonito Flakes (optional)
1 tablespoon Sugar
1 tablespoon Mirin
1 tablespoon Cooking Sake
3 tablespoon Miso
1 teaspoon Grated Ginger
1 teaspoon Sesame Oil
1 tablespoon Water
Slice the eggplant in half lengthwise and score a criss-cross pattern into them to help retain the sauce.
Brush the eggplant surface with oil and place onto a grill pan over stovetop (and cover) or in a toaster oven until the tops are a dark brown and the eggplant is cooked when you can pierce through easily with a skewer. It takes about 10 minutes for small eggplant in a toaster oven or 5-10 minutes on the grill pan.
Give the sliced sides a good coating of Dengaku sauce then put under the toaster oven to get a little caramelization (be careful, this sauce will burn quickly).
Garnish with sesame seeds/bonito flakes/spring onion. Serve immediately with rice.
Place all the ingredients in a small pan, and stir over low heat. Adjust the consistency by adding drops of water. It should not be too runny, but should flow thickly, rather like a thick ketchup.
Recipe by at https://justasdelish.com/grilled-miso-glazed-eggplant/