Braised Mushroom & Sea Cucumber with Broccoli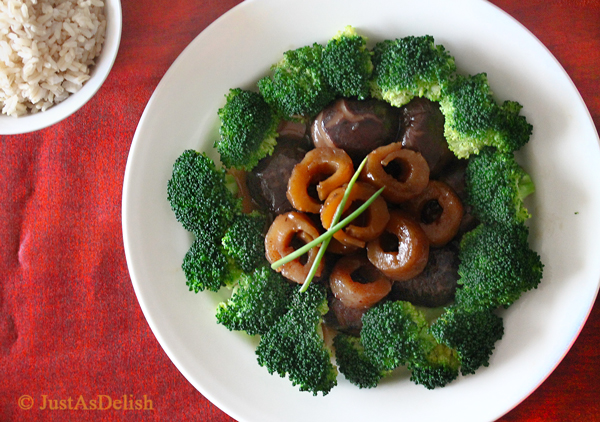 50g Dried Shiitake Mushroom - soaked in hot water for 30 mins
150g Pre-soaked Sea Cucumber - cut into 1.5inch pieces
1 inch Ginger (smashed) & 2 Green Onion (white part only) - for blanching
4 slices of Ginger
1 Green Onion (white part only)
1 Broccoli Head (200g) - remove the stem and cut into florets
2 tablespoon Premium Oyster Sauce
1 teaspoon Light Soy Sauce
200ml Water
1 teaspoon Cornstarch
¼ teaspoon Sugar
Blanch broccoli florets in a small pot of boiling water for 1-2 minute. Remove with perforated ladle into a big bowl of ice water. This is to stop the broccoli from continuously cooking and keep the colour vibrant. Drain the florets dry immediately.
Add ginger and green onion into the same pot, let it boiling then blanch sea cucumber for 1 minute. Drain.
In another pot, saute ginger slices and green onion in 1 tablespoon of oil. Add sea cucumber and mushrooms, stir fry for 1 minute.
Mix sauce ingredients in a small bowl, add sauce to the pot and cook for about 10 mins or until sauce thickened.
* Use a good quality and premium oyster sauce
* I keep the broccoli stems, to place them under the mushrooms, to give them some height. (else the mushrooms will look lost in the broccoli forest. Thinly slice the stems and blanch them in hot water.
* If you want to add dried oysters and dried scallops, soak them in hot water for 30 minutes or until soft, then blanch them in boiling water with ginger and green onion.
Recipe by at https://justasdelish.com/braised-mushroom-sea-cucumber-broccoli/