Penang Acar | Penang Achar (Penang Spicy Pickled Vegetables)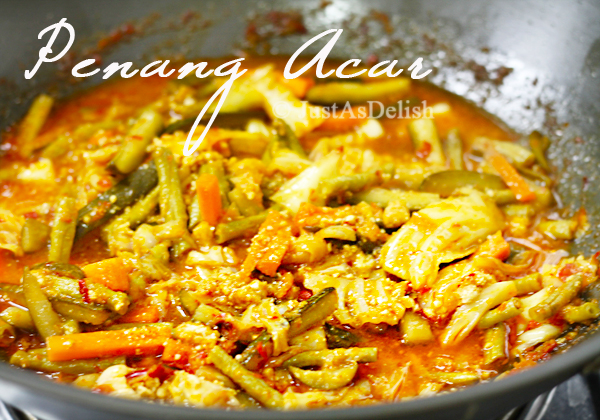 300g Cucumber - cut lengthwise 1½ inch
150g Cabbage - roughly cut into big pieces
50g Carrot - peeled and cut into 1½ inch
50g Long Beans - cut into 1½ inch
50g Roasted Peanuts - ground
2 tablespoon White Sesame Seeds - roasted
1 tablespoon Salt
1 tablespoon Coconut Sugar, or to taste (or sweetener of choice)
3 tablespoons Cooking Oil
50ml Rice vinegar
30ml Water
5 Shallots
6 fresh Red Chilies
½ inch Fresh Turmeric (or 1 teaspoon turmeric powder)
Mix all the vegetables with 1 tbs salt. Leave aside in a colander to dry excess liquid for about 30 minutes.
Blend the spice paste in a food processor.
Heat up the wok on medium heat. Add oil to stir-fry the spice paste until aromatic. Add vinegar and water, bring to boil. Add salt and sugar to taste.
Turn off fire, add all vegetables, ground peanuts & sesame seeds into the wok and stir well.
Dish out, let it cool to store in a jar or container. It can be served immediately but acar taste best overnight after the flavours have developed.
Keep chilled in the fridge. It can last for at least 4 weeks.
Recipe by at https://justasdelish.com/blog/penang-acar/