Kacang Phool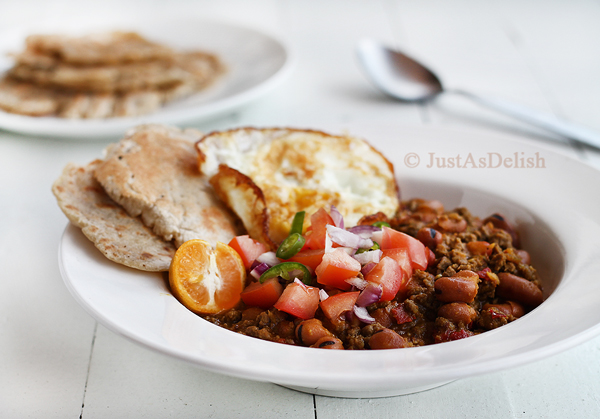 1 can (400 g) Foul Medammas / cooked dried Fava beans / kacang parang
150 gm Minced Beef
¼ cup Tamarind juice (10 gm tamarind + ¼ cup water )
2 tablespoon Meat Curry Powder
1 teaspoon Ground Fennel Seed (Serbuk Jintan Manis)
1 teaspoon Ground Cumin (Serbuk Jintan Putih)
Freshly Ground Black pepper
½ cup Water
Salt to taste
1 tablespoon Oil
5g Dried Chili - soaked (can be replaced with 1 tablespoon tomato sauce for less spicy dish)
40g Shallots
5g Garlic
5g Ginger
Fried Eggs
Onion - diced
Tomato - diced
Fresh Green Chili - diced
Coriander Leaves - chopped
Lime - halved
Add oil into a hot wok and stir fry the blended paste until fragrant. Add in curry powder, cumin powder and fennel powder. Stir until well mixed and very fragrant.
Put in the minced meat and stir until the meat is cooked. Add in the water and let boil. Once the mixture has boiled, stir in the tamarind juice and the beans (with the liquid). Add salt and ground black pepper to taste.
Using the back of a wooden spoon, mash up some beans and cook until the mixture has thickened.
Serve the dish in a deep plate and top up with a sunny side egg, diced tomato, onion, chilies and coriander. Squeeze some lime / lemon juice. Accompany with bread.
Recipe by at https://justasdelish.com/blog/kacang-phool/