Euchema Coral Seaweed Kerabu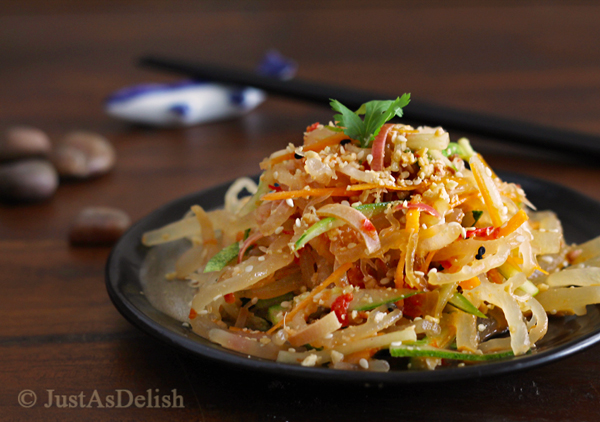 Author:
wendyinkk.blogspot.com
50g dried coral seaweed - soaked & become about 250g
3-4 tablespoon Calamansi Juice
1 tablespoon sugar
2 red chili
1 tablespoon belacan paste (Shrimp paste)
3 inches carrot - cut into thin strips
1 japanese cucumber - cut into thin strips
½ red onion - thinly sliced
½ cup roasted peanuts - roughly grinded
1 tablespoon toasted sesame seeds
1 tablespoon sliced Torch Ginger Bud (Bunga Kantan)
Drain seaweed well and roughly snip them shorter. In a big bowl, toss seaweed with calamansi juice, sugar and salt.
Meanwhile pound chilli and belacan together, then toss with the seaweed. Chill it in the fridge until it's time to serve. Taste the seaweed after 30 minutes, if it needs more flavour, adjust according to your preference. (This can be prepared the day before).
When it's time to serve, mix with the other ingredients and garnish with coriander.
Best served chilled.
Recipe by at https://justasdelish.com/eucheuma-seaweed-kerabu/